It might be quite an unusual topic to write about. Don't worry, we will explain how to outline your work and advise what you should and shouldn't do.
We will write a custom paper
for 12.00 10.20/page
based on your instructions
568

certified writers online
In this article, we will tell you how to write a restaurant review essay. We have prepared some tips, a list of topics, writing prompts, and three essay samples. You will also find the FAQ section at the end of the article. Let's begin!
🍽️ Restaurant Essay. Writing Tips
Here are some valuable tips on restaurant essay writing. Use these hacks to save your time and nerves and make a perfect writing piece.
Start a Restaurant Essay with Research
Research essays of other scholars and professional critics' reviews. Based on the discovered information, decide what kind of essay suits you the best. Also, research the restaurant that you will describe in the paper.
Here are the things you need to consider:
In
only

3 hours
,
we'll deliver a
custom essay
written 100% from scratch
Vocabulary. Notice the specific language that appears in this type of writing. Make a small glossary and search for the meaning of frequently used words.

Structure.

Probably, you need to write a

descriptive paper.

Research its structure and observe how others implement it in long and short essays.

Critical thinking.

Everything you have found needs

evaluation

. Not all of the information is relevant. And more importantly, not all of the sources are worth your attention.

Your notes. Make sure you include all the ideas you've found for your restaurants essay.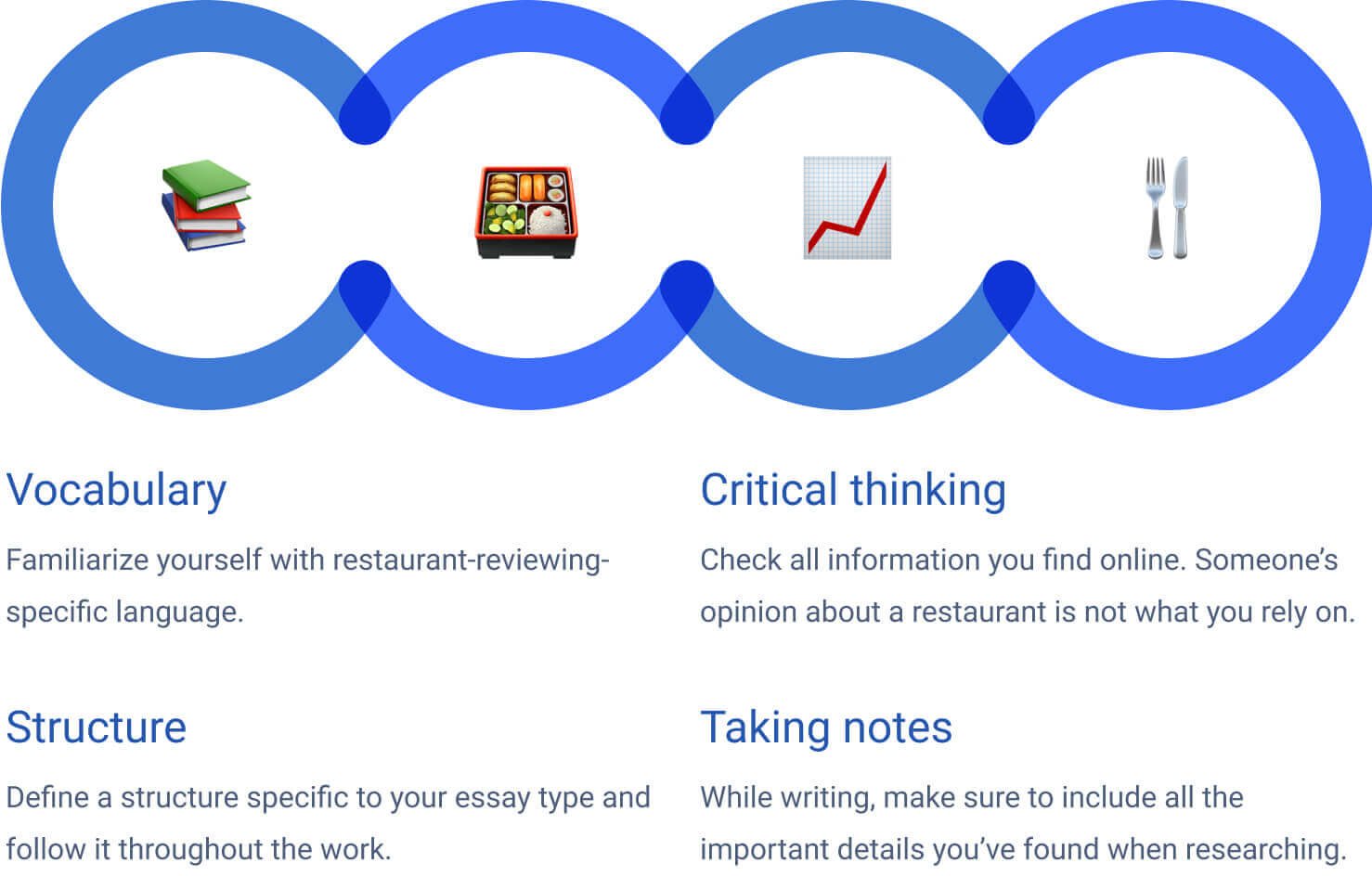 Be Objective in Any Kind of Essay about Restaurant
Sure, the paper should reflect your opinion. But don't make it a Google review. You need to support your thoughts with solid argumentation and evidence.
Follow these tips to be more objective:
Use exact numbers. For example, instead of "many," write the number or percentage.

Write in the third person.

Unless you have other instructions, avoid using the word "I" and such statements as "I believe," "I think," or "in my opinion." But if your topic is "My favorite restaurant," or you do a review based on

your experience

, it is okay to make it first-person.

Don't use words that can exaggerate your writing. Such terms as "very," "really," "never" are better to avoid.

Support your statements with facts. If you express a thought, prove it with credible sources.
Outline Your Restaurant Essay
You need an outline to create a roadmap to your restaurant essay. It is also useful when it comes to planning your time and the content of the paper.
Introduction.

Explain the focus of the paper and provide background. Introduce the questions that you will answer in the following paragraphs. Don't forget to make the last sentence your

thesis statement.

It will be a summary of what you will describe in the body of your essay.

Body

. The content of body paragraphs depends on the type of paper. For example, in an argumentative essay, each passage presents a separate argument. Let's suppose you write an essay about your favorite restaurant. Describe these aspects separately: cuisine, interior, and

service

. Add details and analyze them.

Conclusion. Summarize the main points

of your essay and synthesize the information. Restate your thesis and don't introduce any new information.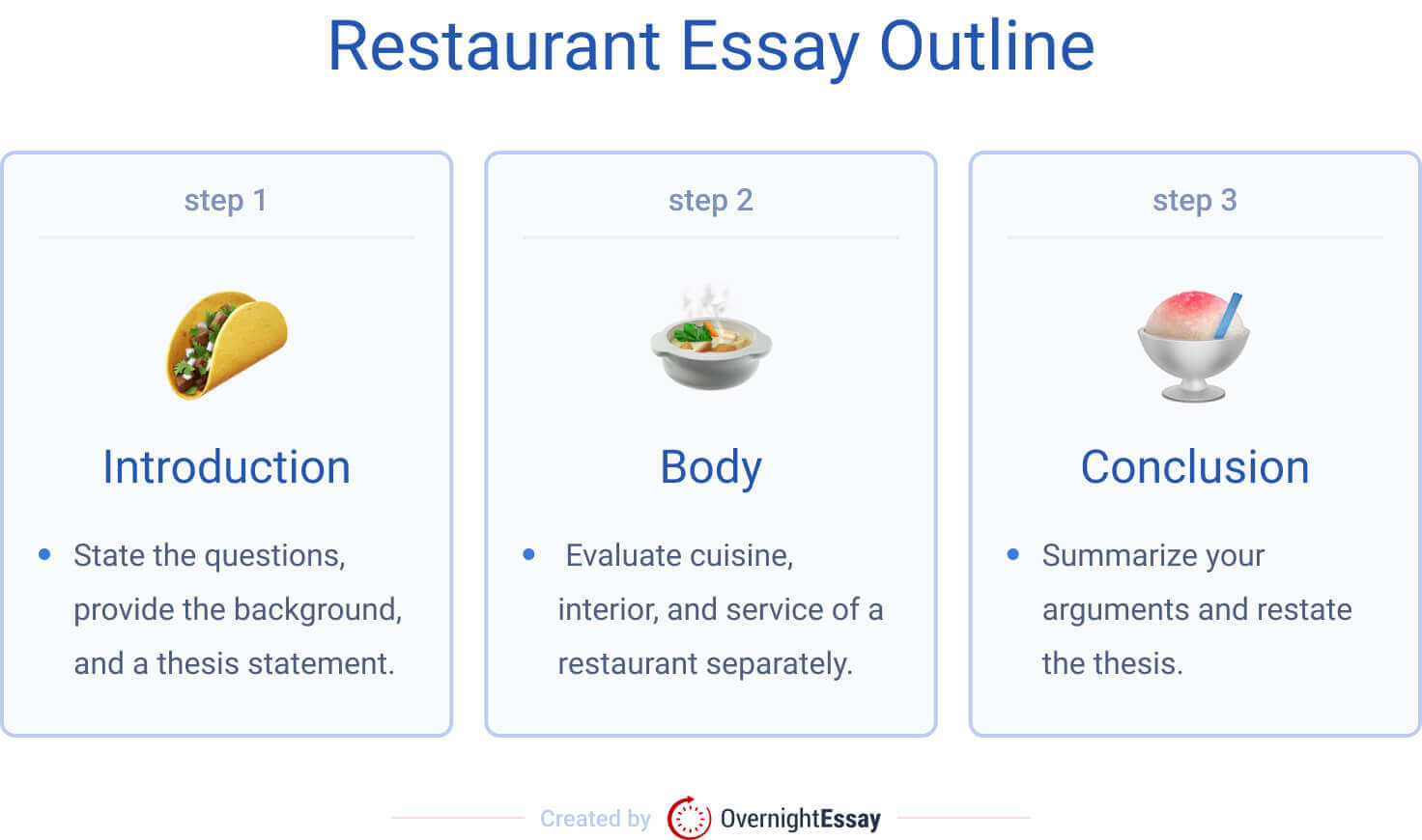 🥗 85 Food & Restaurant Essay Topics
Here we will suggest some titles for your restaurant evaluation essay. You can pick one of those or use it as a starting point.
Restaurant Review Essay
What is the best time to visit a restaurant?

Tell a story about visiting a restaurant as a child.

What restaurant would you recommend to people who visit your town?

Review a restaurant that is the nearest to your home.
Restaurant Evaluation Essay
Evaluation of the main course in a restaurant.

Evaluation of the

interior

in a restaurant.

Evaluation of the concept of a restaurant.

How can you define that the restaurant you visit is a good one?

Compare your expectations and an authentic experience visiting a restaurant.
My Favorite Restaurant Essay
Describe an imaginary ideal restaurant you would like to visit.

How many favorite restaurants did you have in your life?

Describe your favorite restaurant that you visited while

traveling

.

What was your favorite restaurant in childhood?

Describe your favorite dish served in a restaurant.
Home Cooking vs. Restaurant Cooking Essay
Is it possible for a regular person to cook like restaurant chefs?

Describe your favorite meal that you can cook at home.

Is there something that you can cook better than in a restaurant?

Do you prefer eating at home or in restaurants?

Is there a restaurant dish that you would like to learn to cook?
Other Restaurant Essay Topics
Food Essay Topics
📊 Restaurant Evaluation Essay Sample
Here are a few samples of essays on restaurants and cuisine. Use them as references for your future writing. You can also find some inspiration or ideas in the passages.
Get your very first
custom-written
academic paper
with 15% off
Restaurant Review Essay: Modernity in the Heart of Brooklyn
Modernity is a contemporary experimental restaurant located in the heart of Brooklyn. A blue neon sign which blinks from time to time attracts your attention immediately. This restaurant is a good place for people who look for the unusual interior, interesting food, and fast service. The restaurant looks like a futuristic mix of bright colors, unusual furniture, and futurism. There are two floors, a bar on the first floor and tables of different sizes and shapes on the second floor. The walls are decorated with abstract paintings, pictures of aliens and UFOs, and small neon signs like the one above the entrance. The staff wears uniforms that remind space suits. Light techno music and static sounds are playing. The restaurant is consistent with its name. The menu might seem confusing when you first open it. Such dishes as "Martian's brain" or "Unicorn's milk" turn out to be pumpkin soup served with colorful bread and a milkshake. I ordered a dish called "Jupiter on vacation" and a "Weightlessness" drink. They brought me a chicken bowl with blue seasoning that reminded Jupiter and a dark cherry drink with zero calories. Modernity is a place where you can try amazing food, but it is pretty simple in taste. As soon as I arrived and chose a table, a smiling waiter gave me the menu. I just had to press the "Emergency evacuation" button to see him again and place my order. They brought it in five minutes, which is quite fast for a restaurant full of visitors. The waiters and waitresses seem busy and going from one part of the restaurant to another. I recommend visiting Modernity at least once to see the way it looks and enjoy the service. It is a place where every detail is conceptual and exciting. If you are looking for a restaurant where you can take some photos and enjoy a creative atmosphere, Modernity is a good choice.
My Favorite Restaurant Essay
A cafe called Cliff is not far from where I live. You might not even notice it in the surrounding trees; however, this is what makes Cliff worth visiting. I love this place because of its qualitative coffee and meals, beautiful location, and service. They serve specialty coffee, which made me their regular customer. Its taste is a perfect mix of bitterness, chocolate flavor, and a bit of sour aftertaste. I am a big coffee lover, so this café impressed me. Cliff also offers twenty different deserts that are an excellent match to a cup of coffee. Some of them are vegan options; that is why anyone can choose a treat for themselves. You can also order a sandwich or a salad here, and the food is always fresh. Their approach to nature deserves respect. The café's outside area looks like a small park with tiny chairs, tables, and benches. If you ask for a blanket or bring your own, you can enjoy your meal sitting on the lawn in a comfortable position. Cliff is a ten-minute walk from my apartment, so I often go there to study surrounded by these beautiful trees. The interior combines brown and grey colors; most of the objects are made of concrete and wood. The waiters and baristas are cheerful and always ready for a small chat. They help me with my choice and complete the orders fast. Cliff also has quite a fast Internet connection. That is the reason why I regularly see at least ten freelancers working there constantly. The music that plays there is not too loud, but you can still hear it from any spot. Cliff looks clean and neat, that is why I enjoy every minute I spend there. There are many good coffee shops in the area, and this one is worth your attention. Try this place if you enjoy nature, polite service, and a peaceful atmosphere. Choose your favorite coffee drink and a small dessert to dine in the garden.
Home Cooking vs. Restaurant Cooking Essay
I don't visit restaurants so often because my father is a chef. He has been in the culinary sphere for more than 20 years, working in an Italian restaurant. I prefer eating at home to eat as delicious food as in restaurants, hone my culinary skills, and spend more time with my family. Every meal my father cooks at home is a product of his professional approach and good taste. He even creates his dishes and invites us to try them. He changes recipes, experiments with flavors and seasonings, and describes everything he did while we were testing the dish. I feel like a famous food critic each time I try to guess the ingredients and the way of cooking. The next thing I love about eating at home is cooking. I enjoy spending time in the kitchen, even though I know I will not do it professionally one day. My dream is to become a software engineer, but good cooking skills are always a benefit. Having such a teacher as my father, I am sure my culinary skills become better each time. We buy groceries, cook, eat, and clean up together. It is like a small ritual that became a tradition in our family. That is far more than just visiting a restaurant to me. We don't wear fancy clothes, stand in a queue or make reservations, and spend as much time as we want together. We find it more convenient since we have fun and don't have to go anywhere. Eating at home can be a better experience than eating in a restaurant if you enjoy cooking. There are so many things to explore. You can try different cuisines, experiment with recipes, and teach each other. If you haven't tried such time spending, I highly recommend it!
FAQ
How to Structure a Restaurant Essay?
Most academic essays consist of five paragraphs. In your restaurant essay, include an introduction, three body paragraphs, and a conclusion. You can also make a small glossary before the introduction or in it.
How to Write a Restaurant Review Essay?
Share your experience through making a narrative. Provide some background information about a restaurant and describe your general opinion. Explain your point in the following paragraphs, support it with evidence. Conclude your essay with a summary of the evaluation and state whether you recommend it or not.
How to Write the Name of a Restaurant in an Essay?
If you want to avoid mistakes, visit the restaurant's website. You can find the exact spelling there. In your essay, start it with a capital letter. Don't use quotation marks unless they appear in the official name of the restaurant. If the restaurant doesn't have a website, try to find their social media accounts.