Essay Scrambler for Paragraphs & texts
To use the essay scrambler, paste a sentence, a paragraph, or a whole text in the field below. Press the button, and in a couple of moments, a rephrased version of your writing will appear in the next window. That's it!
Using a paragraph scrambler can be life-saving when you work on an essay. Credible sources are essential to academic writing, yet you can't put quotation marks each time you need to exemplify your point. Instead, you can simply paraphrase the needed extract from a source or summarize the point of a whole novel with the right words. To accomplish this, you will require the help of our essay scrambler. It will significantly lessen your workload. It will also save you a lot of time to spend on more important things.
In the article below, our team has outlined what this tool is capable of. You will also learn to use this word scrambler to avoid plagiarism in your essay.
🔮 Text Scrambler: What It Can & Cannot Do
When using an essay or paragraph scrambler, you need to understand that it has certain limitations. You can only fully realize the true potential of this online software once you know what to expect from it.
Here are the things it cannot do:
Our tool cannot write an essay for you from scratch. It works with the text you input, changing the vocabulary and making your sentences unique.
A paragraph scrambler cannot fix grammatical errors. Therefore, you have to be vigilant when composing your text. Double-check your spelling and punctuation before using this generator.
It cannot predict what vocabulary you need. A single word can have dozens of synonyms, depending on its context. However, our text changer offers different options. Click on a word and go through the list.
The software cannot function offline. As with any other website application, you need an internet connection to access it.
It cannot provide a plagiarism check. Make sure to verify the originality of your scrambled sentences. Remember, if you are using a paraphrased excerpt in academic writing, you should cite it.
Instead, this generator will scramble your paragraphs, sentences, or even phrases. In other words, it will save you hours of looking for the perfect synonym, the suitable replacement, a better expression, etc.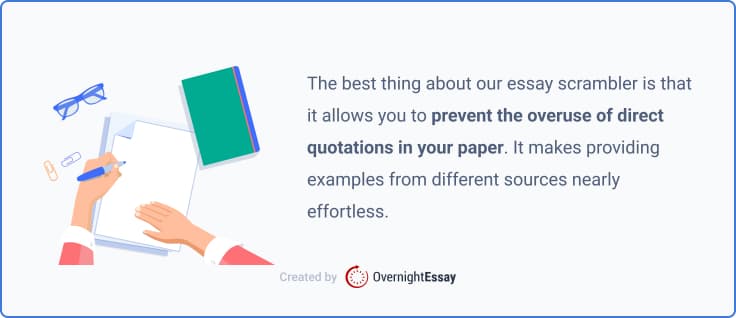 Our digital text scrambler also has the following benefits:
Keeps the original meaning. This innovative tool scans your text and replaces words with close synonyms. However, its message and overall purpose will remain untouched.
Works fast. Once you press the button, you will get your paraphrased content within seconds!
Reviews the writing several times. After the process is complete, you can make further adjustments to your text. Run it through the machine again for a different result. Or look through our list of synonyms yourself!
Available at any time of day or night. You can access our essay scrambler 24/7, whenever you want.
Operates for free. There are no payments or subscriptions required to use this tool. Paste your text and let the scrambler work its magic!
🖱️ Using a Paragraph Scrambler for Essay Writing
As we mentioned above, academic writing is directly associated with paraphrasing. Even to compose a simple expository paper, you will need to provide examples from different sources. For you, you will either use an essay scrambler or do the work yourself.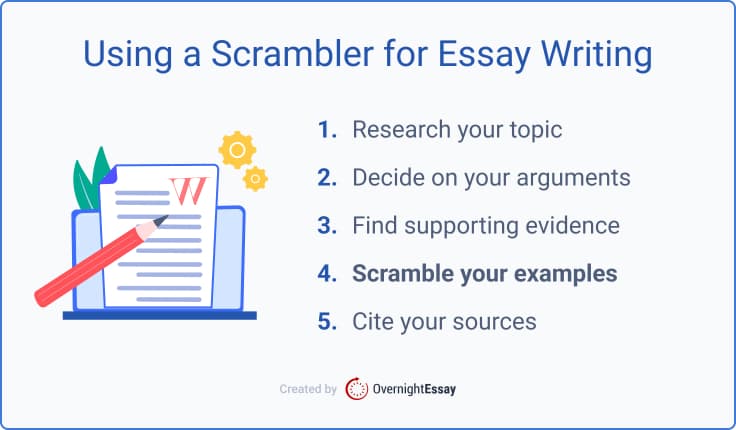 Over here, we will explain how to use our tool when writing an argumentative essay:
Research your topic of choice.

Imagine that you are writing about the influence of European imperialism on Africa. Look for relevant sources and take note of what you may need. Find information that covers both points of view (African and European). It will give you a rounded understanding of the subject.

Decide on your thesis statement and arguments.

The thesis statement goes at the end of the introduction. It declares the subject matter of your paper and its purpose. Make sure you formulate the thesis clearly so that your audience understands what you will be discussing. The following paragraphs must discuss three arguments that back up your points of view.

Choose examples for your essay.

The claims you are making have to be supported by evidence from your research. Typically, we use citations to indicate which parts come from other sources. If you are using an excerpt directly as it appears in the original text, be sure to include quotation marks around it.

Use our paragraph scrambler to paraphrase them.

There is an easy solution if you want to use what was said in a source but don't want to quote it directly. You only need to insert the words into the window above and press the button. Our tool will shuffle them for you, creating an entirely new text that still retains the original meaning.

Cite them in the body paragraphs.

Insert the paraphrased texts as you go along with your paragraph writing. Make sure you follow the citation style required by your academic institution. Don't forget to mention all the sources you have used in the reference list.
If you're feeling a little mixed up, check out some crucial essay writing tips.
Thank you for using our generator! We hope that it has scrambled the paragraphs in a fashion that will be of use to you. Try our sentence paraphraser if you aren't completely satisfied with the results. Perhaps, it turns out to be just what you were looking for.
👌 Essay Scramble Generator: the Benefits
| | |
| --- | --- |
| 💰 Free | Use the anti-plagiarism scrambler without paying anything. |
| 🎓 Made for students | Scramble a paragraph, phrase, or a whole text with this tool. |
| 🔢 Easy to use | Just add the text to scramble and push the button. |
| 🧦 Convenient | You won't need to download any apps with this essay scrambler. |
🔗 References