Although essay writing is one of the most common assignments, it may seem like you will never learn all the rules and requirements. The thing is that there are so many types of essays, so many peculiarities, that even the length of your paper might affect the way you complete it.
We will write a custom paper
for 12.00 10.20/page
based on your instructions
568

certified writers online
So, this time you want to get answers to your questions about a 500-word essay, and we're going to help you with it.
📝 500-Word Essay: Answers to the Most Popular Questions
We've collected all questions you asked about a 500-word essay and provided you with the best possible expert answers! Let's dive in!
How Many Pages Is A 500-Word Essay?
The length of a 500-word essay depends on several factors, particularly on how big you write or the font you use in your 500-word essay.
You may be wondering how many pages this number of words will take. Usually, handwritten 500-word essays are about 2-4 pages long (4 pages if your writing is colossal). If you use a 12 pt font to type your paper, it will take one or one and a half pages.
In
only

3 hours
,
we'll deliver a
custom essay
written 100% from scratch
Of course, you're not supposed to write exactly 500 words – ask your instructor for the range in which you're allowed to write. Usually, it's okay to go over the word count by 50-100 words. However, don't exceed the limit by too much.
And you may also wonder: how many paragraphs are 500 words? Well, it depends on the topic and how many different questions you want to cover in your paper. But on average, your essay might be around five paragraphs.
How Much Time Will It Take to Write a 500-Word Essay?
As a rule, it does not take too long, but everything depends on the topic you choose. If you are interested in it and have some background knowledge, it will take you 30-45 minutes to prepare an essay.
If the topic is not familiar to you, you will have to conduct additional research. In this case, you will spend about an hour or more on making your paper; it depends on how difficult the research is.
You are already familiar with the 500-word essay format and structure – they are the same as for a regular essay so you won't have any problems there.
Get your very first
custom-written
academic paper
with 15% off
Summing up, if you are familiar with a topic, you'll be pretty fast in writing your essay: around an hour. However, if the topic is new, you will need 2 to 4 hours.
How Should You Write a 500-Word Essay?
The whole writing process is similar to writing any other essay – a standard five-paragraph structure is used to prepare 500-word essays. By the way, texts of this kind can be either another assignment from your teacher or a college entrance essay.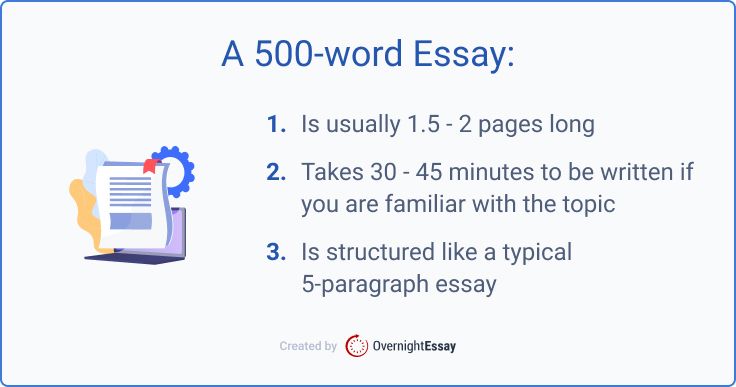 Yet, no matter whether you are writing a 500-word descriptive essay or a personal college essay, you better stick to a standard organization pattern.
Anyway, as with any other essay type, it is crucial to start with a plan or an outline. It will help you to structure your thoughts and will ease the writing process.
Don't forget that creating a thesis statement is a must! So, it is best to formulate your statement first and then dive into a step-by-step plan for your paper.
We will write a custom paper
for 12.00 10.20/page
based on your instructions
Your plan must include an introduction, the main body (usually it is several paragraphs), and a conclusion. We also recommend you analyze several free 500-word essay examples if you have some other questions. If you like these samples and want some help with your essay, contact our custom writing service.
What Are The Benefits of 500-Word Essays?
You may ask – why should you have to write a 500-word essay when the topic is broad enough to write 2,000 words or even more?
Well, there are several reasons for writing such a short essay:
It is easier for your instructor to check the papers.

It is excellent training for students in how to research and build logical structures.

It is a great exercise to embrace

brevity

. In the next paragraph, you'll see what this means, so you can decide whether you need to develop this skill or not.
💡 500-Word Essay Outline
To make it even more clear, let's take a closer look at the 500-word essay outline – as we've mentioned already, a 500-word essay includes the same five paragraphs as always. Each paragraph should be 75-125 words in length. But if you've never written such short essays before, it can be challenging to get used to the new word count.
Let's recall what these five paragraphs are and discuss their specific features and purpose in short essays. Every essay consists of three main parts: introduction, main body, and conclusion.
Let's have a closer look!
This part tells the readers what topic is going to be discussed. It is vital to cover every point of your essay and include a detailed thesis statement. To not miss any important information, students are often advised to write the paper's body first. This tip may seem a little bit confusing, but it's pretty helpful – only once the body is written is it possible to know what essential points should be covered in the introduction.
It would help if you also remembered that the 500-word essay introduction is meant to be brief and informative. Don't add a detailed story or share personal thoughts about your topic.
Main Body
The body is the main section of your essay. The body is usually divided into three paragraphs according to the number of points discussed in the paper. Especially for a 500-word essay body, it isn't easy to investigate and discuss many issues in such a short text, so it's best to choose only three main ideas.
It is vital to prove every point with accurate arguments or opinions, but always keep in mind how many words you have left to express your thoughts.
This section should be written especially carefully. As a rule, your audience does not like drawing conclusions or searching hard for the results you're trying to prove. So, one of the author's primary tasks is to summarize only the most essential thoughts to make readers understand the main idea. Depending on the type of essay, you may try to persuade the audience by placing emotional triggers in your conclusion or sharing your perspective.
📚 500-Word Essay Example
Above, we've answered many of your questions about writing a 500-word essay. However, it is much more practical to have a look at a 500-word essay example! Let's dive in!
Firstly, as soon as you know your topic, you need to research before preparing an outline.
Let's imagine that you've decided to write an essay on identity. You will research what aspects of the topic you will cover, keeping in mind that you have 500 words only.
As in our example, you might decide to discuss identity by analyzing several literature cases.
In the introduction, you need to present the topic in such a way as to interest a potential reader.
Example:
Every day we make different choices. Our choices are always motivated by external factors like social environment, personal relations, and cultural beliefs. … Four stories to consider… reveal how social status and external factors stimulate one's personal choice of identity…
Comments:
You can see that in the introduction, the author intrigues the potential reader and makes the topic attractive. Also, he introduces what exactly will be discussed in the essay.
Next, you're going to have the main body of your essay. As you can see from our example, the body has four paragraphs. It is logical, as each section covers one of the four stories.
Lastly, you're going to present your conclusion. The conclusion aims to sum up all that you've discussed above in your essay. Ideally, the conclusion should be around 60-70 words.
❓ FAQ
✍️ How Many Pages Are 500 Words Handwritten?
If you decide to write your 500-word essay by hand, you'll get around two to four pages. It depends on how colossal your writing is. The number of pages will also depend on the size of paper you chose for writing your essay.
✒️ How to Count Words in A Handwritten Essay?
The best way to count words in a handwritten essay is to keep a count while writing. It means you should count the words after each sentence is written. It will make it easier to calculate the total number of words at the end.
📄 500 Words Means How Many Pages?
If you choose 12 pt for your paper, you'll get around one or one and a half pages. As was mentioned above, you'll get two to four pages handwritten.
📃 How Many Paragraphs Are 500 Words?
There is no strict rule on how many paragraphs you should have in your 500-word essay. You must include the introduction, main body, and conclusion. However, having in mind that you have 500 words, it becomes clear that the main body should be divided into several paragraphs. On average, people write from four to five paragraphs.
🔗 References