Feeling lost and helpless when approaching a new academic topic? Wish that you could at least scan a successful paper before writing it yourself? Or simply need fresh ideas to complete a task? Our team has found a database exactly for that. So strap in, and let's get to our NerdyRoo review!
We will write a custom paper
for 12.00 10.20/page
based on your instructions
568

certified writers online
🦘 What Is a NerdyRoo Database?
The NerdyRoo database is a collection of academic papers (essays, studies, reports, etc.) on different subjects and study levels. It was created in Australia – yes, that's the reason behind its name – by art students who decided to help their fellow undergraduates. What started with a couple of papers gradually grew into a vast academic essay database you can use today.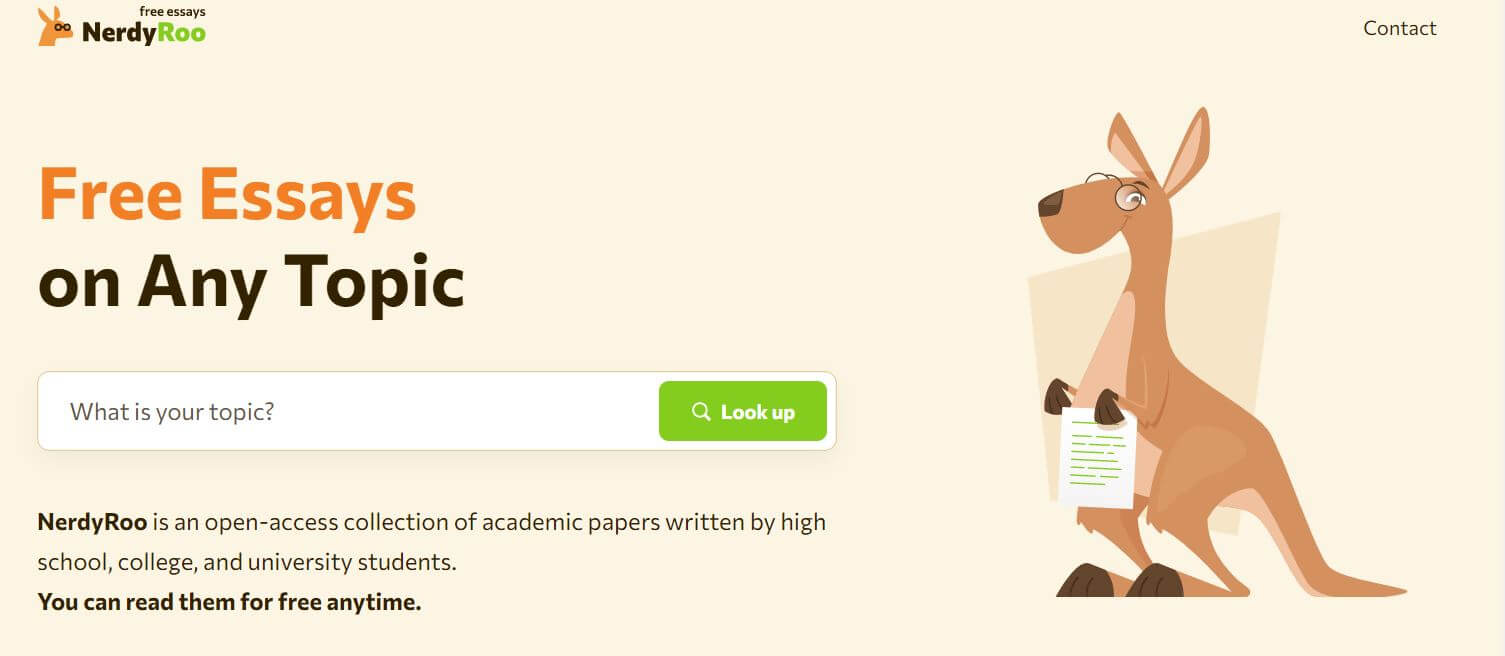 The website's founders understood that academic articles or scientific data don't improve your essay writing skills. And if you're seeking inspiration, such scholarly materials can confuse you and destroy any spark of interest you have. So, you will benefit more from checking successful essay examples rather than trying out yet another academic search engine. As a study resource, we support this message.
😮 Is NerdyRoo a Scam?
This question may pop up in your head as soon as you have seen the word "free" in the Nerdy Roo description. We can't blame you! There are plenty of resources that attempt to scam students by selling them plagiarized essays disguised as original content. However, we are sure this is not the case here.
Nerdyroo.com contains a collection of papers that students previously wrote for various reasons. As the founders added their essays to the resource, other learners or researchers submitted their pieces that could've been assignments in their schools or colleges. In the database, you'll find:
In
only

3 hours
,
we'll deliver a
custom essay
written 100% from scratch
Excerpts from dissertations that helped their authors to graduate.

Argumentative essay examples that the authors' professors highly praised.

Master theses that their writers are proud of.

Other research papers, lab reports, and essay samples that were thoroughly edited and approved.
In short, you are welcome to check out NerdyRoo's papers for free, as they have already been graded and praised by academics. Their authors no longer need them, so they allow the website to display them freely, without registration. If you have more questions on the matter, see it explained in detail on the FAQ page.
🗃️ Is NerdyRoo Legit?
Yes, especially if you use it correctly. You see, the website is outstanding for numerous purposes: from learning essay writing and gathering arguments for your academic paper to getting fresh ideas to investigate in your work. It's free, easy to use, and accessible without signing up or sharing any personal data. Yet, you can't use NerdyRoo to plagiarize the content.
The free essays database doesn't approve of academic dishonesty. If you check its Terms and Conditions, you'll see that there is a strict policy regarding the website's use.
Even from this Nerdyroo.com review, you can gather that the database's purpose was never to support any type of plagiarism but to help students improve their writing. Thus, you can read, cite, get inspired by, and learn from essay examples but never copy them.
To prove it, the website allows its visitors to cite any sample automatically!
Get your very first
custom-written
academic paper
with 15% off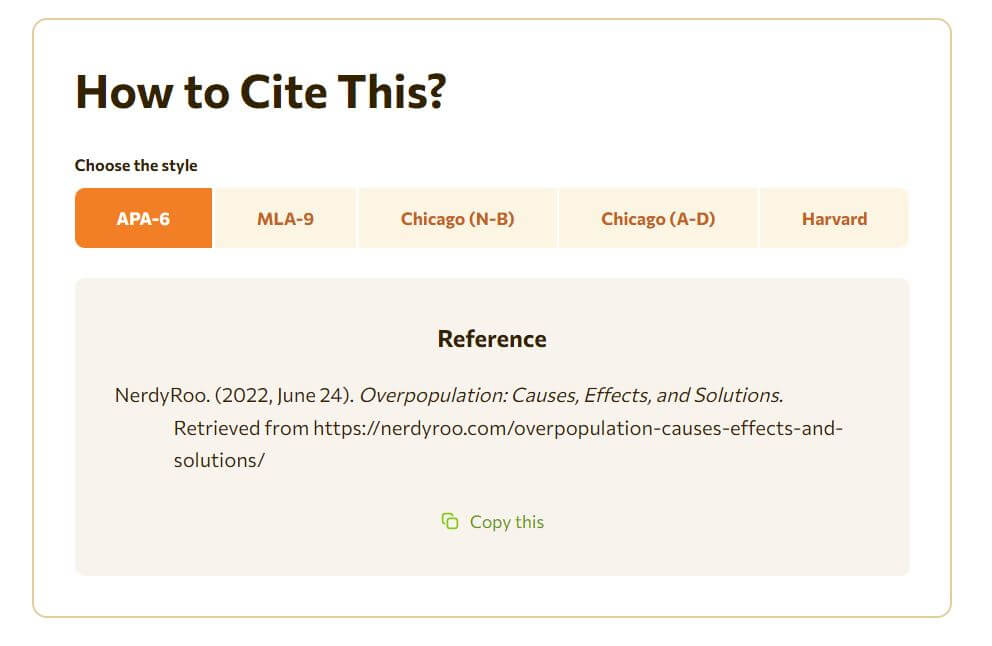 For instance, you want to use an excerpt from the NerdyRoo essay and cite it in the MLA format. For that, scroll down and find the free citation tool on the page. Click on the required reference style, and that's it! You can copy the source and put it in your Works Cited section of the paper, along with journal articles and other academic works.
⭕ Are There Any Drawbacks?
Unfortunately, nothing is perfect. Even though this free essays database is quite helpful for the students, there are a couple of issues we need to mention:
There are no cross-disciplinary papers. Or, to be precise, NerdyRoo doesn't show that some works are related to more than one subject. Thus, if you're looking for how to explore a topic involving two or more disciplines, you may have trouble finding one.

Searching for an essay can be tricky. You can look for a paper via the search field or navigate through the works within a subject. However, you can't specify the sample's desired length or type. So, you generally view papers of varying word count, format, and difficulty levels.
We would still recommend you check Nerdy Roo out. Even though it's not flawless, its user-friendly interface and the variety of academic papers available won't disappoint you.


📨 Donating a Paper to NerdyRoo
As we've mentioned, the whole point of Nerdyroo.com is to offer free help. You won't find any original papers here. Some other students created and submitted each work available, and the website doesn't hide it from its visitors. What's more, it actively suggests everyone donate your paper to their collection by filling out the form and sending your academic piece yourself.
Yes, the essay you're proud of but have no use in can help others! Just make sure you're submitting your own work. The database won't accept plagiarized content or someone's text without their knowledge.
We will write a custom paper
for 12.00 10.20/page
based on your instructions
And if you don't want your paper on the website anymore, simply send the removal request!
🔎 How to Use NerdyRoo: Tips on Searching
NerdyRoo is an academic essay database that provides many materials to work with. Thus, you may think that finding one perfect paper example is impossible. It can be your worry in particular if your research topic is too narrow or tricky to formulate.
Yet, it won't be a problem.
NerdyRoo allows you to browse through a collection of academic papers based on the subject or keyword of your choice. Here is how you can do it:
Subject Search
As an academic essay database, NerdyRoo allows its visitors to look for papers based on subjects. It's perfect for students who need some inspiration to complete their tasks in a particular field.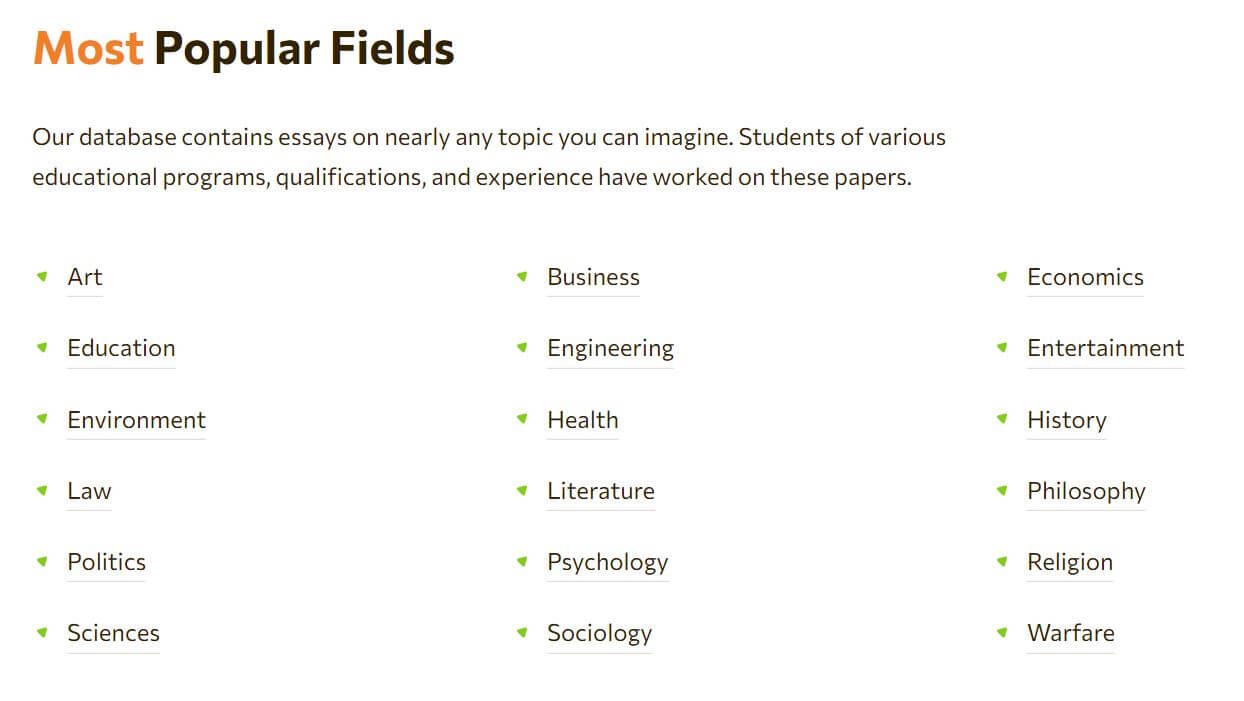 To try this out, start with the following:
Choose the subject in the Most Popular Fields. It contains the majority of essential disciplines, so you're likely to find the one you study.

Scan all the results available, one by one. Right by the title, you'll see the start of each academic sample. It will show you the paper's direction from the get-go.

Check similar papers. If you don't see an essay on the topic you need, it's not a problem! Click on the sample to see both the text itself and all the papers on similar topics.
Keyword Search
You've definitely tried this one before, we're sure of it. Still, let's see how you can make keyword search on Nerdy Roo easier.
Decide on the keywords. What phrase defines your topic of interest? It most likely involves the subject you study and some essential nouns you would type into Google Search to research the idea. So, determine what words are crucial to the issue you're investigating.

Type them into the What is your topic? field. Of course, you can copy and paste it as a whole, but the database may not show you the results you need. If your type your keywords, you will consider a variety of essays related to your issue.

Click on the Look up button. You will see different papers containing the keywords you've typed. Browse through the results without opening each one – you'll spend too much time this way!
Instead, pay attention to:
subject;

title;

description;

number of pages.
This way, you'll scan all the related papers provided by the free essays database in a matter of minutes.
👍 All in All, Is NerdyRoo Reliable?
Yes, it is! You won't even stumble upon any pitfalls related to the resource's accessibility.
As a free essay database, it lacks the necessity to collect personal data when it's not related to donating a paper or requesting its removal. Though, it sets up cookies to improve your website experience.
And even when they collect such personally identifiable data as your email address, phone number, or your name, they won't share it with third parties. They reiterate that they won't give away or sell personal information in their Privacy Policy. So, you can be sure that Nerdy Roo values its visitors' safety.
We hope this Nerdy Roo review has helped you find a reliable and accessible essay database for your studies. If you think this article can be useful for your friend or peers, send them the link!