What is IELTS? IELTS stands for an International English Language Testing System.
We will write a custom paper
for 12.00 10.20/page
based on your instructions
568

certified writers online
IELTS is basically a test that helps participants learn about their language skills. It consists of four parts: reading, listening, writing, and speaking.
If you take the test, you will get a separate score for each of the parts and the overall grade. This way of grading helps the participants learn on which area exactly they need to work more to improve.
🏋 How Hard Is IELTS?
It is not a secret that passing IELTS is not an easy task. The highest possible score is nine, and most people are aiming to get at least five. To do so, one needs to consider several factors:
Do not get too stressed. It is a known fact that even if you are well prepared, the nerves can get the best of you. It doesn't matter how much you know when you are stressed. Try to stay calm and focus on the tasks

Learn about the rules and the exam requirements. Security issues at the testing center, for instance, should be taken into consideration. Keep in mind that you can be disqualified for breaking the rules or security measures

Keep track of the time. There is generally not enough time to complete all the tasks. You will also have to transfer your answers to the answer sheet, so be careful about that

Be aware of the test structure. It is always good to take your time before the exam and look at the exam papers from last years to get used to the format and the structure of the test
If you keep these things in mind, getting a higher score will be much easier.
In
only

3 hours
,
we'll deliver a
custom essay
written 100% from scratch
⚙️ The Best Way to Prepare for IELTS: Learn the Exam Pattern
As mentioned before, the test consists of four parts: reading, listening, writing, and speaking. First, you need to make sure that you got the correct type of paper. There are two types of IELTS: academic and general training. The reading and writing parts are different, so it is better to check if you have the correct test type in the very beginning. You will have limited time to finish each section.
| Section name | Tasks | Timing |
| --- | --- | --- |
| 👓Reading | 3 texts, 40 questions | 60 minutes |
| 🔊Listening | 4 recordings, 40 questions | 30 minutes (+ 10 minutes transfer time) |
| 🖋️Writing | 2 tasks (description of visual information + essay) | 60 minutes |
| 💬Speaking | 3 parts | 11-14 minutes |
IELTS Reading Section
The reading section consists of 40 questions. It is designed to test a wide range of skills. The participants are given three long, stylistically different texts. Usually, the task includes one descriptive, one factual, and one analytical text. They are usually taken from newspapers, magazines, or books. The pieces are suitable for people who do not specialize in certain areas but plan to enter the university or seek professional registration.
You have 60 minutes to finish all the questions. Different types of questions are used: multiple choice, identifying information, matching information, matching headings, sentence completion, summary completion, diagram label completion, short-answer questions, etc.
It is done to test a broader spectrum of skills. Each correctly answered question gets one mark. There is no extra time to transfer the answers to the answer sheet. You should keep track of time and look after your grammar and accuracy. Spelling and grammar mistakes are penalized.
IELTS Listening Section
The listening part consists of 4 subsections. Each part has ten questions. The main objective is to check your ability to understand the main ideas, their development, the factual information, and the details.
Get your very first
custom-written
academic paper
with 15% off
The first two situations are set in an everyday social context. Situations three and four are generally set in an educational or academic context. There are two dialogues (parts 1 and 3) and two monologues (parts 2 and 4).
The recordings are played only once. You have to be prepared to hear a range of accents, including British, Canadian, Australian, New Zealand, and American. You will have 30 minutes to finish all the tasks. There is also an additional 10 minutes given for you to transfer your answers to the answer sheet. The questions include multiple-choice, matching, sentence completion, form/cart/summary completion, etc.
IELTS Speaking Section
The speaking section of the exam is recorded. The aim is to assess your use of spoken English.
This section consists of 3 parts, and you are given from 11 to 14 minutes.
In the first part, you are asked general questions. You will have to tell the examiner about yourself, your family, work, or hobbies. Generally, the section takes around four to five minutes. Next, the participants are given a card on a particular topic and one minute for the preparation. You will have to speak on the subject for up to two minutes. After that, the examiner is going to ask you questions related to it. The third part of the test lasts for five minutes. The discussion topic is still the same as the second part; however, you have the opportunity to discuss more ideas and express your opinion.
We will write a custom paper
for 12.00 10.20/page
based on your instructions
IELTS Writing Section
The writing section consists of 2 parts. Similarly to the reading part, the tasks given are suitable for people who do not specialize in certain areas but plan to enter the university or seek professional registration. You are given 60 minutes in total.
The first task includes visual information and tests your ability to understand and work with it. You may be given a diagram or a graph and asked to analyze, summarize or discuss the data. The participants need to write 150 words. For this task, it is best if you can finish the work in 20 minutes. The second part is an essay. It needs to have 250 words and is a response to the point of view of an argument. You should write both texts in a formal style. You need to write the answers on an answer sheet in complete sentences only.
🤹 IELTS Tips & Tricks
Below you'll find a list of 7 tips & tricks that will be useful when you're preparing for IELTS.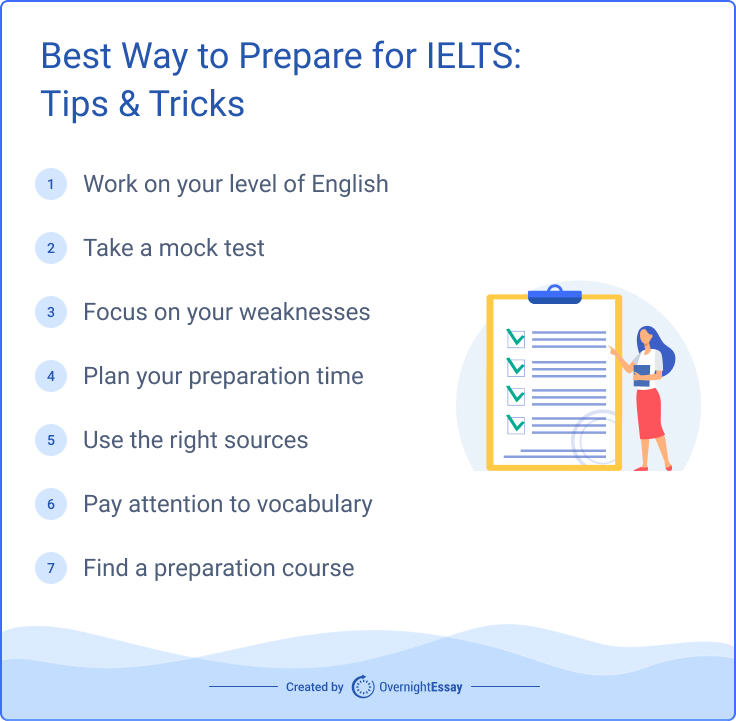 IELTS Tip #1: Work on Your Level of General English
While preparing for the test by working on each section of the exam is important, improving your general English skills can be equally helpful. If you start working on your English, it will increase your chances of getting a high IELTS score. Here are several things that can help you:
| | |
| --- | --- |
| Practice | Apart from doing your school homework or attending the courses, try to work on your English yourself. Take every opportunity to use the language, talk to native speakers on the internet, read books, and watch movies in English. |
| Don't translate everything | Every language is different. A lot of people make this mistake when they translate sentences from their native language into English. Translating will only make you sound awkward. Try to think in English. |
| Keep a journal/take notes | You can write about your learning journey in a journal, take notes, and keep track of new vocabulary. Saw an interesting phrase or expression? Write it down! Try to memorize it and use it in your writing. |
| Be consistent | Consistency is important. If you have only 15 to study English every day, it's okay. Take that 15 minutes and learn new words or phrases, read one page from a book. If you do this every day, gradually, you will see the result. It is better than finding an excuse not to study at all. |
IELTS Tip #2: Take a Mock Test
Before going to the test, it is crucial to get familiar with its structure. Solving mock tests is an excellent opportunity to prepare yourself mentally and experience the types of tasks. Try to keep track of time while doing the exercises to develop your test technique. During the actual test, there are no breaks between the reading, writing, and listening parts. You may keep that in mind while practicing. The speaking part is taken on a different date.
Using free practice tests will not only help you to familiarise yourself with the questions but also to check your level. You will understand what sections need more attention. That way you can improve faster.
IELTS Tip #3: Focus on Your Weaknesses
After taking the mock test and learning which parts of the exam need improvement, you can start working on your weaknesses. If you have problems with the reading section, for example, you may want to start reading more. Try different kinds of texts. Maybe you only read newspapers, while you also need to read some science-related articles or fiction. It will help you to improve your vocabulary and get used to different writing styles. If listening is the section you struggle with, listening to podcasts or watching movies in English during your free time may improve your skills. When you find your weakness, it is easier to improve.
IELTS Tip #4: Plan Your Preparation Time
Planning is an important part of the preparation process. Your plan depends on how much time you have left before the exam and how busy you are. Planning helps you to save time, distribute it properly, and be more efficient. You can use official websites and resources to help you plan. IELTS Study Planner, for instance, gives some planning ideas to those taking the exam. The website introduces a 5-week studying plan. Following it will make the process of preparation so much easier!
IELTS Tip #5: Use the Right Sources
Resources that you use while preparing for the exam are important as well. It is possible to find all sorts of information on the internet, but it is crucial to find reliable resources. When you prepare for the reading or listening part of IELTS, you may want to use some articles or recordings similar to those used in the actual test.
The websites below can be of great help for those who wish to practice reading:
The following websites are good for listening (podcasts on platforms such as iTunes or Stitcher can be helpful as well):
IELTS Tip #6: Pay Attention to Vocabulary
Vocabulary is another important aspect. If you want to work on your English, you need to study vocabulary. The more words you have stored, the easier it is to understand any text. The IELTS exam uses a wide range of vocabulary, and it may cause some difficulty. Developing good study habits is essential to success. Everyone has their way of dealing with or memorizing new vocabulary. Here are some tips that may come in handy:
Write down new words or expressions and their definition

Put these words/expressions into a sentence. Contextualize them

Look for collocations

Look for antonyms/synonyms

Check the word forms (verb, noun, adjective, adverb, etc.)
IELTS Tip #7: Find an IELTS Preparation Course
Preparing for the IELTS exam is not an easy task. It is possible to prepare for the test on your own, however, attending the courses might be a good idea. An IELTS preparation course will keep you more organized and focused. You may find yourself more motivated by attending the classes. The teachers will offer to help you with specific tasks, and you can always ask questions. If you join our course, you can be sure that the preparation for an IELTS exam won't seem as hard as it used to.
No one says that passing IELTS is an easy task.
If you take time to prepare and plan everything, however, it becomes much more manageable. Whether you are preparing on your own or joining the courses, keep being consistent and put effort into your work. Keep in mind all the tips mentioned in this article, and start preparing right now!