Do you need to write a perfect scholarship essay for your dream college?
We will write a custom paper
for 12.00 10.20/page
based on your instructions
568

certified writers online
Thousands of students have completed their winning essays with our help. If you want the same results, read this article attentively. Contact us in case you have any questions, and we will be happy to help!
🔤 Scholarship Essay. Introduction
College scholarship essays give an opportunity of funding the education for talented students. Some also require a high GPA, being a socially vulnerable group member, or proof of financial need. In other cases, you just need to deliver a good writing piece to have a chance to win the scholarship you have chosen.
You might write such an essay for your college or an independent contest.
There are lots of fields and many options for students of different backgrounds. Make sure you pick the right one for yourself and take it seriously.
In
only

3 hours
,
we'll deliver a
custom essay
written 100% from scratch
⚙️ Scholarship Essay Format
So, how to format a scholarship essay?
The requirements can be different for each task, but the key points that define the quality, remain. Below, we will discuss the essential characteristics of a scholarship essay.
Scholarship Essay Outline
The structure is pretty much typical, although this is not a standard essay on any subject. There should be an introduction (with a hook), development of the action, climax, and the end in any writing.
It is not necessary to call it all by common names: introduction, body, and conclusion. The main thing to follow the scholarship essay format is to divide your text into paragraphs logically.
We will show you how to write these essential logical parts.
Get your very first
custom-written
academic paper
with 15% off
Scholarship Essay Introduction
Here are some tips on how to start your essay:
Make a small overview of the following paragraphs. Describe what your essay will include, but don't uncover the most exciting parts, just introduce. To do that, create an outline of your paper and choose the things you can write in the intro.

Connect yourself to the scholarship. Research the person in whose memory the scholarship is named and find what you have in common.

Hook your readers. You can state a surprising fact about yourself, start with a thought-provoking question, or unusually set the scene.

Avoid using cliches. You don't want your essay to sound like millions of others –

Use your own words instead of quotations. It is better to start with your ideas to establish a personal connection.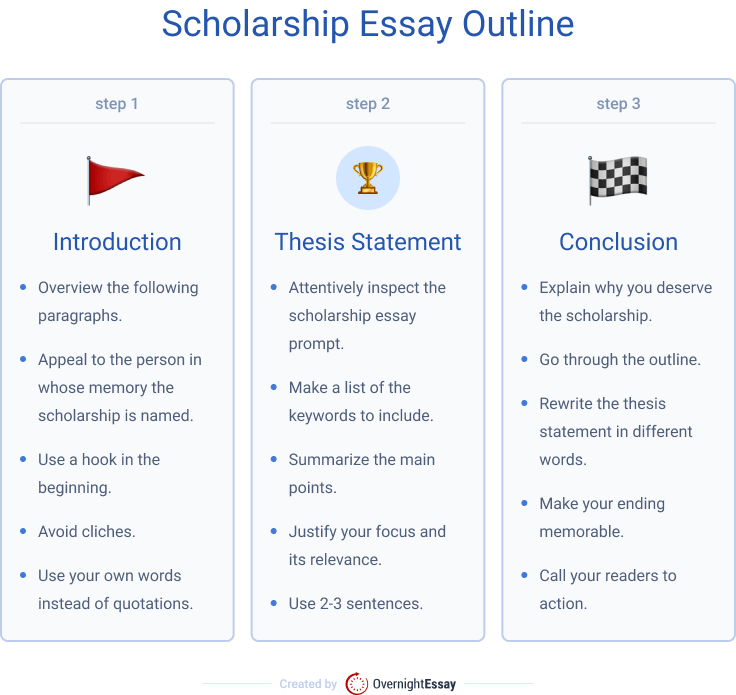 Scholarship Essay Thesis Statement
Follow our advice to write a worthy thesis and to avoid some common mistakes:
Pay attention to the scholarship essay prompt. Probably, the prompt has already given you an idea of what should be in your essay.

Note down the keywords you need to include. Make a list of essential points that are vital for your essay. It will also help you to create your essay outline.

Summarize the main points of the paper. Your thesis should give an overview of your position and the content of your essay.

State your focus and explain why it is relevant. Give your readers a reason to pay attention to what you are trying to say.

Don't make it too long. A proper thesis statement is two sentences at maximum.
Scholarship Essay Conclusion
Your conclusion is the chance to impress your audience.
Say why you deserve the scholarship. Your explanation depends on the content of the body paragraphs and your writing style.

Return to your outline.

It will help you to

create a summary

and not overcomplicate it.

Restate your thesis statement. Don't write it in the exact words. Just make sure that you answered the main question and stated all the points.

Try to make it memorable. Create a witty and intelligent ending.

Call your readers to action. Remind your readers that you aspire to receive the scholarship after explaining why you are a worthy candidate.
Scholarship Essay Requirements: Style, Formatting, Essence
We prepared some tips on how to format a scholarship essay:
| | |
| --- | --- |
| 🔖 Stick to the format. | You can still be creative, but don't go too far from the topic. You can read several essay examples before you start creating your own one. |
| 🔖 Brainstorm. | Write everything that comes to your head, and then leave only the best ideas. |
| 🔖 Follow the directions. | Usually, scholarship organization provides some guidelines. They might include the word limit, the critical questions, and the formatting requirements. Look for some format samples on the website. |
| 🔖 Don't be afraid to be personal. | It will help your audience to feel that you are a sincere and genuine person. |
| 🔖 Avoid pessimistic headers. | It might work, but generally, negativity is not the best option. Better focus on the positive sides of the situation or what you have learned from it. |
| 🔖 Tell an engaging story that describes you. | Rather than just listing your characteristics, make them prominent by describing your actions. |
| 🔖 Proofread your essay. | Even if your ideas are brilliant, there is more than that to a scholarship application. Grammar and spelling are essential parts of the impression you make. |
| 🔖 Ask for help. | There is nothing wrong with giving your essay to several people and receiving some feedback. |
📝 Scholarship Essay Examples
The primary goal of any application essay is to show that you will be academically successful and contribute to the college's social life.
We will write a custom paper
for 12.00 10.20/page
based on your instructions
You need to write about your strong sides and why this scholarship will make a difference in your life.
Before you create a scholarship essay outline, you need to know what to expect. Here are our top five of the most popular types of essay headings and some tips:
Essay about myself. Be honest when you mention your strong sides. Be specific and creative.

Why do I deserve this scholarship? Think about how you can contribute to the college or community the way nobody else can.

My career goals. State what you want to achieve and explain how the scholarship will help you to do that.

A challenge that I have overcome. It should demonstrate your strong sides and your attitude to life.

The person that I most admire. It can be somebody you know or a public figure. Draw a parallel with yourself and be precise.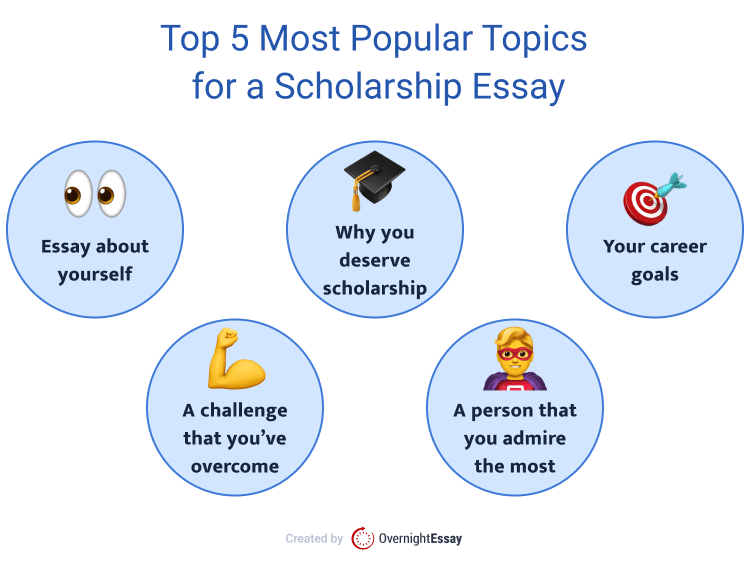 Below, you will find templates of the three most common essays.
1 – Scholarship Essay Examples about Yourself
My name is Brian, and I am going to study Journalism and Documentary Photography at DePaul University. I want to become a professional who can handle long journeys to tell the truth to the world. My career goal is to make a difference by taking pictures and telling stories to highlight important events on a global scale. I come from Chicago, where many events remain unnoticed. I know that people face injustice every day, and I aim to make them be heard. During my high school years, I learned the basics of photography and storytelling while attending extra-curricular classes. Each time I travel, I take my camera with me. I use both film and digital cameras on my trips. After my studies, I will apply for internships in such magazines as Life or Times. My ultimate goal is to travel around the world and witness the events that shape history. From my point of view, it is essential to tell the stories of the people who lived through the events and describe their experiences. I am applying for this scholarship to get help while studying at university and buy all the necessary equipment for my career. As a freshman student, I have a lot of expenses connected with my studies. I appreciate your consideration and hope that you will help me follow my dream of becoming a reporter. This is my passion, and I know exactly what to make this dream come true.
2 – Scholarship Essay Example about Why I Deserve the Scholarship
I knew that I wanted to protect the environment since I was a kid. I decided to be ecologically conscientious when I saw an advertisement encouraging me to sort rubbish. Reading more and more about the Earth, I became sure that my mission is to contribute to our planet and devote my career to protecting ecosystems. I believe that what I do is essential to nature and society. That is why I applied for this scholarship. In my junior year of high school, I joined an ecological camp in Ohio. We studied different ecosystems and the role of humans in them. I prepared three ecological projects, and my aim now is to implement them. I concluded that it is possible to make a difference even when you are a teenager if you care. That is why I created an environmental club in my high school after I came back from camp. Last summer, I became a volunteer and joined an outstanding community of soulmates. We took care of animals who survived severe conditions or were ill-treated by their owners. We also participated in activism devoted to wildlife conservation. I believe that I can share my experience with other kids and teenagers this summer. This scholarship will help me to fund my expenses during my trip to Mexico. I plan to visit some middle and high schools and help them establish ecological communities like the one I had in my school. After that, I will volunteer in Parque Natural Ria Lagartos. As this job is not paid for, I hope to receive some help with the scholarship.
3 – Scholarship Essay Example about Career Goals
My name is Alice, and I have always been excited by space. I am a sophomore at the University of Arizona, and I plan to continue my studies and eventually become a Space Sciences professor. I want my future students to be as excited as myself. That is why I aim to gain various knowledge and experience, which I can later share. First of all, I need to complete my bachelor's degree. I am an academically successful student, but there is more than that to me. That is why I always participate in conferences and other events helpful to me academically and professionally. Then I will proceed to Masters and Ph.D. I plan to devote my life to sciences, but I want to know how to implement it to be a good professor apart from theoretical knowledge. I need this scholarship to fund my trip to Sci-Tech Forum in San Diego, California. I feel that this event will give me a lot of new knowledge from top professionals. I will also have the ability to communicate with them and present my project. This project is about small satellites which can be as efficient as big ones, and they are less harmful to nature and easier to manage. I feel a bit nervous about speaking in public, but I am sure that I have done a great job preparing for my presentation. I believe that having this kind of knowledge and experience will be helpful to future generations of passionate students. As for me, the best teachers are the ones who can share something apart from just book knowledge. Thank you for reading my essay. I appreciate your attention and hope that I will be able to visit the forum.
💡 Scholarship Essay Topics, Questions & Prompts
In this passage, we prepared a selection of essay titles and interview questions with sample answers.
Scholarship Essay Topics
Most of the papers below should be narrative essays that indirectly indicate what kind of person you are. These are the most frequent essay topics in scholarship essay format:
Why do you need this scholarship?

Tell about your failure and what you have learned from it.

How can you contribute to the college community?

Describe yourself.

Why do you want to study (your major)?

Tell us about your personal achievements.

What role does sport play in your life?

What are your academic goals?

What are your career goals?

What are your unique features?

Where do you see yourself in ten years?

Describe the person who influenced your life the most.

Describe a situation when you had to collaborate with people whose beliefs differ from yours.

Provide your solution to a college campus problem.

What book or film made an impact in your life and why?

Describe a situation when you demonstrated your leadership abilities.

Tell about a time when you had to stand for your beliefs.

How did education change your life?

Describe the person or persons that are your role models and explain why.

How did your family affect who you are today?

What social issue concerns you the most and why?

Describe your contribution to your college or high school community.

Tell us about your life-changing experience.

Why is your major important in modern society?

Describe your extra-curricular activities.
Scholarship Essay Prompts
Look at these topics you can use for a scholarship essay – we've provided some helpful tips!
Leadership Scholarship Essay
Conduct research. Learn what leadership is and how you can connect it with your life situations.

Leadership is not only about being able to manage and guide other people. Consider such things as independence, standing apart from a popular opinion, protecting those who need your help, or taking responsibility.

Think about how these situations and your personal qualities are useful to the college community. They look for people who will contribute to the community and use their strong sides on campus.

Be honest and personal. It will make your essay more human and appealing.

Think about the audience and the college's values. It is vital to show that you are a good match for this particular institution.
Nursing Scholarship Essay
Make sure that you suit the scholarship. Not all universities provide financial aid to medical students, and some of them are available only to particular majors.

Make a list of your life experiences relevant to nursing. Volunteering, work experience, club groups, academic projects, participation in events are all great examples. All of them might be useful in your essay outline.

Tell your readers why you chose nursing. You can choose to write about the general aspiration for helping others or the particular field of your studies.

Explain why this scholarship particularly gives you opportunities. Include specific classes that you want to take or the medical career that you aim to pursue.
Music Scholarship Essay
Introduce yourself and tell about the role of music in your life. Are you a talented singer, music instrument player, or composer? Let them have a clear picture of who you are.

Mention your achievements and activities. Tell a story, don't just simply list your awards.

Explain why you need this scholarship. Tell about the educational and career prospects that it gives you—highlight why you deserve this chance.

Pay attention to the tone. Your essay should highlight that you are an optimistic person, even if your art is not all about positivity.

Proofread your essay. Even in creative fields, literacy is something that your audience will notice.
Scholarship Essay Questions
In case you are invited to the scholarship interview, here is our selection of questions and possible answers:
Tell us about yourself.
This request might seem too broad, but try to focus on the essentials. Your values and characteristics that suit the college, your ambitions, and focus on a single life situation that shows most of them.

Tell us about your greatest weakness/strength.
It is vital to be honest if you receive this question. Of course, you will find it easier to discuss your strong sides. If you need to describe your weaknesses, try to focus on how you deal with them and work on yourself to eliminate them.

How will this scholarship make a difference in your life?
Make a list of opportunities and choose the ones that are available only with this scholarship.

What are your academic and professional goals?
If you haven't thought about it, it is the right time. Try to connect your plans with the scholarship.

Who is your role model?
Make a connection between this person and yourself. Explain why you aspire to possess the same qualities or achieve the same results.
👣 How to Win a Scholarship: Final Steps
Now that you know all the details and requirements of a good scholarship essay let's polish this knowledge.
In this list, we will discuss general aspects such as mindset and approach to this task: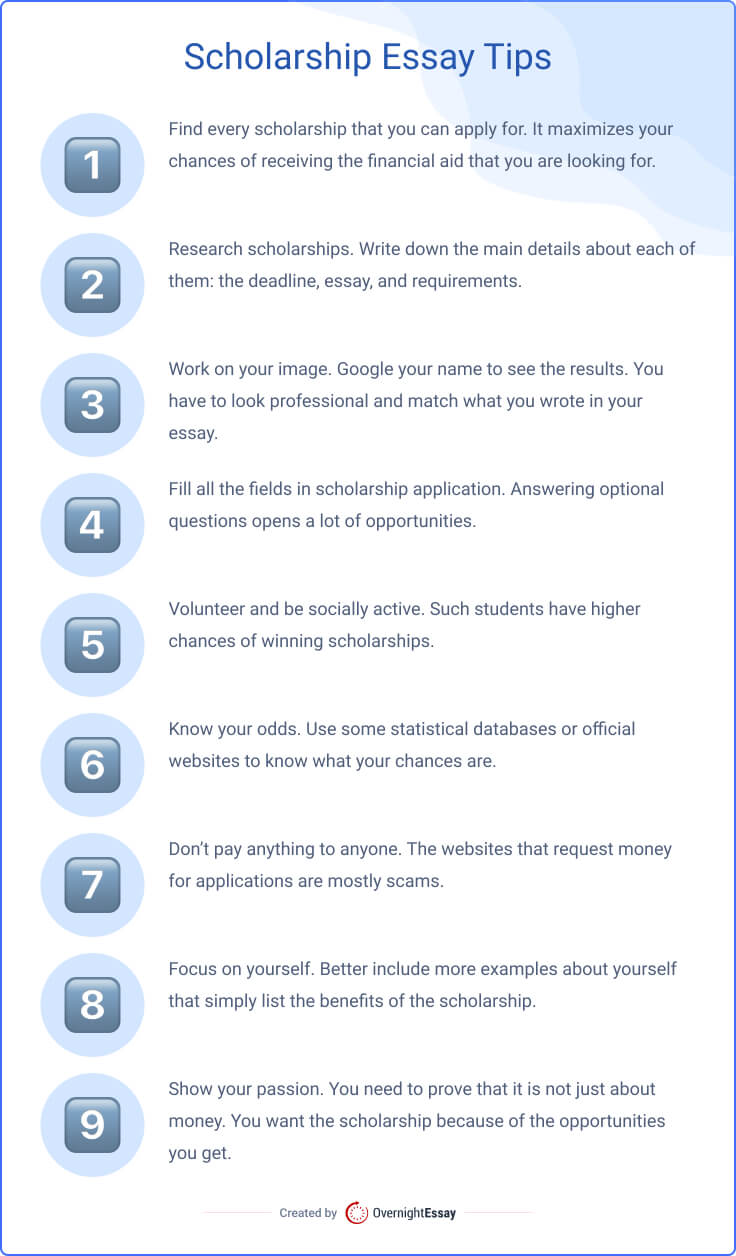 Thank you for reading this article! Now you know how to win a scholarship and what challenges you might face.
We wish you good luck!
❓ FAQ
How to Start Scholarship Essay?
Write a little about yourself and try to hook your readers. You can use a hook or a thought-provoking question. Imply on the content of the following paragraphs. Don't waste your word limit on quotations or cliché phrases.
How to Introduce Yourself in a Scholarship Essay?
You should write a couple of words about yourself at the very beginning of the essay. Be honest and don't try too hard to impress the audience. Show your qualities through examples and your experience. Mention your values and characteristics that match the college or the scholarship organization.
How to Title a Scholarship Essay
Choose an optimistic title that applies to you the most. Title your paper after you have finished it. Your title should match the essay's tone and style. Or you can use your thesis statement and shorten it to 3-4 words.
How to Format a Scholarship Essay?
Each essay should consist of three logical parts: introduction, body, and conclusion. Check the requirements for the word limit, font, and other formatting aspects on the official website. Don't forget to proofread your essay and ask other people for a second opinion.