TOEFL iBT is one of the most popular tests that allows you to prove your English-speaking competence. You will need to get a good result when applying to a foreign university or looking for a job abroad.
We will write a custom paper
for 12.00 10.20/page
based on your instructions
568

certified writers online
The exam is taken online, which is a benefit compared to other similar exams (e.g., IELTS). It means that you can access innumerable online preparation materials and try your skills on an exam simulator.
If you are short of time, and the test day is the day after tomorrow, this article will help you organize your efforts. To take the maximum out of the last two days, use these TOEFL tricks and strategies.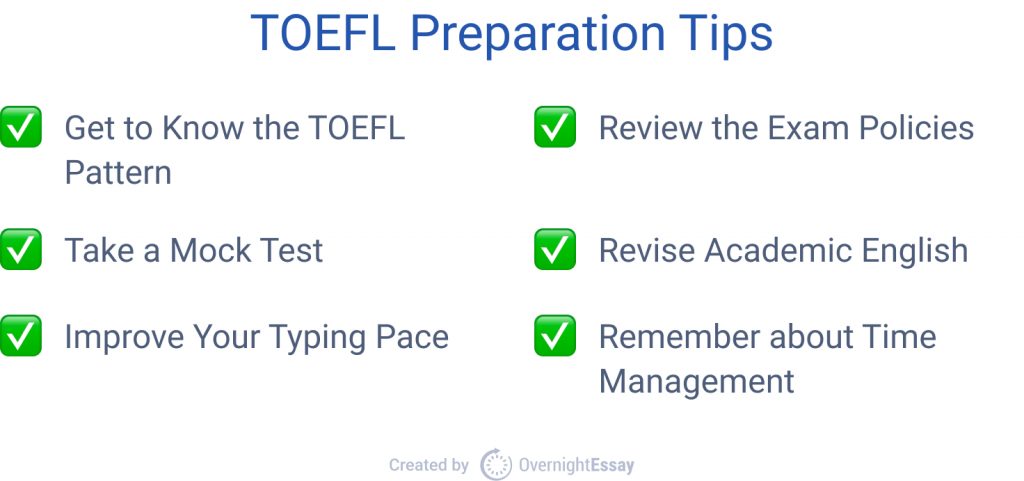 📝 TOEFL Tips for Day #1: Think It Out
TOEFL Preparation Tip #1: Get to Know the Exam Pattern
Even those who are sure about their language knowledge can fail the exam if they do not exercise. The questions are specific, and you need to develop techniques to complete them in time. You need to answer all the questions in time. That is why your principal concern now should be to gain a thorough understanding of each section.
You can use the following table when practicing the test. Set up a timer and check if you can pass the preparation material online in time.
In
only

3 hours
,
we'll deliver a
custom essay
written 100% from scratch
| Section | Time | Assignment |
| --- | --- | --- |
| Reading | 54 – 72 min | 30 – 40 questions |
| Listening | 41 – 57 min | 28 – 39 questions |
| Break | 10 min | N/A |
| Speaking | 17 min | 4 tasks |
| Writing | 50 min | 2 tasks |
How Long Does It Take to Prepare for TOEFL?
It depends on your English level. Preparation can take you from a month to a year and a half. But if you have good English and are familiar with such kinds of assignments, here are some last-minute tips for each section.
TOEFL Reading Section
Be relaxed and attentive. This advice relates to every section, but reading is the first part, and many people still panic in the beginning. If you feel nervous, try to breathe deeper.

Learn to read fluently. You are not supposed to understand each word. Moreover, it is doubtful you will. The purpose of this section is to test your understanding of the text message despite its complicated vocabulary.

Guess the meaning of the words you are unfamiliar with. In a follow-up to the previous point, mind that some words are crucial to getting what the author wants to say. Use the context to deduce.

Make a one-sentence summary of each paragraph in your head. It will save you much time as you won't need to re-read the entire text searching for answers. In such a way, you will memorize which paragraph contains the respective information. As a bonus, this TOEFL tip gives you a better grasp of the text.
TOEFL Listening Section
Practice active listening. Pay attention to the speakers' stress: they highlight the information. Analyze the data and track the analogies, comparisons, and contrasts.

Make notes. This practice helps to see the logical development of the text. Develop your system of abbreviations and symbols. But if you write down everything you hear, your attention will be dissipated.

Find something that interests you. Many TOEFL listening texts sound like an essay read aloud. Not all of them will be engaging. Very often, you'll have to make an effort to concentrate. Try to listen not just for information but for some interesting material. You'll see how this technique grows your attention.

Mind the rhythm. The most crucial information usually comes after a pause. In addition to the meaning, mind the speed of the speech. If it is slowing down or accelerating, be extra attentive.
TOEFL Speaking Section
Stick to the point. It is a thumb rule for speaking and writing, but you are more likely to diverge from the question in the oral section.

Record yourself to spot your weak points. Take several speaking assignments and make a video of your speaking. It always helps to look at yourself from the outside.

Watch out for tenses. If the question is in future simple, do not answer it in the present tense, and vice versa.

Imagine you are speaking to a friend. Do not repeat the question: we never do so in a daily setting. Be friendly and try to make your answer enjoyable to listen to. Provide new facts or thoughts in each new sentence.

Structure your answer. Think of an idea you want to convey and never change it in the course of your speech. It will make you sound inconsistent and confused. Divide the message into several points and dedicate equal time to each of them.
TOEFL Writing Section
Rephrase the assignment. Be careful not to write the exact words you read in the question. Otherwise, it will reduce the overall score. Use your own words to demonstrate your copious vocabulary.

There is nothing better than the good old 5-paragraph essay. Make an introduction, summarizing what you are going to say and why it is essential. Then write three arguments. They will be the first sentences of your main body paragraphs. Develop each new line with examples and appropriate reasoning. In the end, write a concluding paragraph that briefly answers the assignment question based on what you have noted above.

Proofread but not only for mistakes. Your result in writing depends on more than grammar and spelling. At this stage, eliminate any stereotyped phrases, repeated use of the same word, or inconsistencies. Check if the length of your text fits the requirements.

Do not panic if you are far from being an expert in the given field. TOEFL is not a test on history, geopolitics, or ecology. It checks your ability to express yourself in English.
TOEFL Preparation Tip #2: Take a Mock Test
Reading articles on TOEFL and watching YouTube tutorials is beneficial, but not as much as taking an online test. No description of the exam pattern will be clear unless you try it.
ETS TOEFL offers a free practice test. It is not a complete simulation: you will not be scored, and your answers in speaking and writing will not be recorded. Still, you can check how many correct answers you make in listening and reading.
There is also a perfect option to read and listen to some successful performance in writing and speaking sections. Try the test as many times as possible to detect your weak points and see what could be improved.
TOEFL Preparation Tip #3: Remember about Time Management
When you practice the dummy test, set up a timer. Try to complete all the questions in time. In such a way, you will be mentally ready for the test conditions. If you lack time, look where you can save it and where it slips away. Probably you spend too many minutes reading the questions or correcting the answers.
Get your very first
custom-written
academic paper
with 15% off
Some people spend much time correcting the answers they have already made. In reading and listening sections, it can be draining. Decide on the variant you prefer, forget about it, and move on not to distract yourself.
❗ TOEFL Tips for Day #2: Concentrate on the Most Difficult Parts
As long as you have become aware of your soft spots, focus on them. One day left! You can be tempted to work on the section that you are already good at. Put it aside and address the most challenging part.
TOEFL Preparation Tip #4: Improve Your Typing Pace
You are supposed to complete the writing section on your computer. The time is strictly limited. It means that the less time you spend on physical typing, the more time is left for brainstorming and formulating your ideas. You can test your typing speed, and if the result is unsatisfactory, learn how to type with ten fingers.
TOEFL Preparation Tip #5: Review the Exam Policies
Do this beforehand to know what expects you. No electronic devices are permissible at the test site. Any violation of this rule will lead to your dismissal. There are some other recommendations on your visibility throughout the test and recommendations on how to behave during check-in. By the way, do not forget to bring your ID.
TOEFL Preparation Tip #6: Revise Academic English
TOEFL is an academic test that helps you enter a college or university in an English-speaking country. Most of the materials reflect what you are going to see and hear on campus or in a lecture hall during your study abroad.
We will write a custom paper
for 12.00 10.20/page
based on your instructions
In the speaking part, be polite and avoid low-register English vocabulary. Although phrasal verbs do well for speaking, try not to use them in your writing, as they will make your text look informal. You can use the following table for reference to check which phrases work well for the test.
| A not-so-good sentence | A perfect sentence |
| --- | --- |
| I'll give you my vision of the hitch. | I would like to start by providing you my vision of this problem. |
| Students have to work hard to keep up with the program. | Students are supposed to work hard to handle the curriculum. |
| When my Mom got home, she said my room was a total wreck. | When my mother returned, she said that my room was very untidy. |
TOEFL Preparation Tip #7: Get Ready for the Test Day
Plan your way to the test site. Check the possible itineraries and select the fastest and the easiest route with the least number of transport changes. Calculate the time it will take you and add some 20 minutes for force majeure. You need to arrive 30 minutes before the test starts, so your calculations should look as follows: travel time = road time + 20 minutes + 30 minutes.

Be ready for the check-in process. Bring your ID card and the registration confirmation. Your photo will be taken for test identification. Your official score report will also contain your picture. Try to look nice.

Where is my seat? You will be told where your test place is several minutes before the start. You can use the restroom whenever you wish, but the timer will not be stopped for this purpose.

Be ready to survive the test. It will take you about 4 hours, depending on how many questions the first two assignments contain. A ten-minute break will be given to everyone after the completion of the listening section.
Very soon, the test day will pass, and you'll have a chance to breathe out. So now it is high time to concentrate and work hard for a high score. If you have your personal TOEFL test tips, please share them with our readers. Your knowledge can be worthless to other people.
🔗 References