Applying to the university of your dream is a stressful and exciting experience at the same time.
We will write a custom paper
for 12.00 10.20/page
based on your instructions
568

certified writers online
In this article, we will explain the critical factors for a successful college admission essay. It will help you to outline your work and achieve your writing goals.
There are plenty of materials you can find online. So, we did our best to prepare a complete guide to college admission essay format.
Here you will find some tips on essay structure, titles, and what to avoid when writing such an essay. Let's go!
🧱 College Essay Format. The Basics
What is the difference between high school and college essays?
In
only

3 hours
,
we'll deliver a
custom essay
written 100% from scratch
The depth of writing.
You will need to consider and present different opinions on the same issue instead of just yours. In the following paragraphs, we will explain how it works.
1. The Primary Purpose of a College Application Essay
Obviously, your purpose here is to introduce yourself to the college. But it's not just about describing yourself. A University wants to make sure you will be a successful student and will do well after graduation.
And this is what you should do in your personal statement for college:
Pay attention to the way you express your thoughts. The writing should be literate. Proofread your essay or ask somebody to do it for you.

Make sure that you highlight your logic and analytical thinking.

Show your social awareness. Raise an important issue and describe your position.

Show your research interest. Describe your prior studies in the field that you have chosen.

Convince them that you can achieve your goals. Provide some examples.

Write about your social skills that will help you to contribute to the school's community.
2. Requirements of a College Essay Format
An admission essay is your first college essay. After it, you will need to write your assignments according to the college essay format. You will also need to follow a specific formatting style like APA or MLA. Let's try to do our best to comply with the requirements and level of such an essay.
Get your very first
custom-written
academic paper
with 15% off
What is important?
Maintain the structure. Organize your writing logically. Don't jump from one thought to another.

Reflect. Don't simply describe the events. Instead, write about how they affected you and what you have learned.

Analyze more than retell. This will make you look like a critical-thinking and consistent student.

Answer the essay question. It is easy to get lost in reflection and everything you want to tell. But make sure you answer the question directly.

Tell a story. Share your unique background and experience. Write about something personal and important to you. Don't try to pretend to be someone else. Instead, show that you are motivated and honest.
3. Difference between High School and College Essay
Now, to summarize all written before, let's put it this way.
Here are the main five differences between high school and college essay structure:
| | | |
| --- | --- | --- |
| | High School | College |
| The number of points and paragraphs | There are usually five paragraphs and three main points. | There is no exact number of paragraphs or points. |
| Arguments | You can use your personal experience to support your point of view. | You need some sources to support your arguments, and you also need to provide an opposing point of view. |
| The length of paragraphs | Your paragraphs can be of any length, depending on the overall size of the essay. | Usually, it varies from one-third to two-thirds of a page. |
| The quality of research | You can use information that you found with a search system like Google. | You need to use scholarly research. Usually, college libraries provide access to such sources. |
| Introduction and conclusion | You should go from a general topic to a specific issue in the introduction. Then, in conclusion, you have to summarize the main points. | You need to start with your essay question or topic in the introduction. Then, in conclusion, you have to reflect and analyze your summary. |
📏 How Long Should a College Essay Be?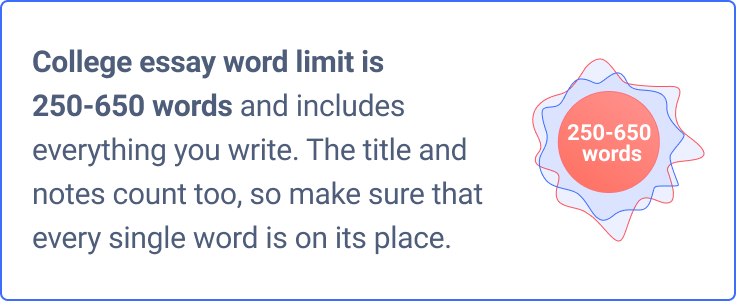 The common application essay requires from 250 to 650 words. But don't try to write the maximum. If you have written what you needed, and there are 500 words, it is enough. College essay word limit includes everything you write. The title and notes count too. The text box will not allow you to enter more than 650 words in total.
Even if you are close to reaching the limit, keep in mind that it is not an extended essay. Your writing can be from three to eight paragraphs long. It depends on your style and strategy. Make sure that every single word or sentence is something you need in your essay.
We will write a custom paper
for 12.00 10.20/page
based on your instructions
📑 College Essay Structure
College essay format slightly differs from a usual subject essay. Let's have a look:
How to Start a College Essay? Introduction
In college essay structure, the first paragraph is like a road map to your paper. Use the introduction to set the background and state the problem. It will help your readers relate to the issue you will discuss in the body of the essay.
Remember that it is your chance to make a first impression. Try to start your introduction uniquely, hook your readers. Here's what you can use:
A catchy quotation that is relevant to your topic.

A provocative question.

A joke. Be careful with this one.

A puzzling scenario.
It is recommended to write the introduction last. When you do so, it is easier to navigate your thoughts and match the body paragraphs.
Thesis Statement
In your thesis statement, you have to specify your point of view directly. It is usually one or two sentences long. A thesis statement is basically a summary of your arguments.
To know that you have created a strong thesis statement, make sure you:
Answer your question.

Choose the position that someone can oppose.

Make it specific. Don't generalize as you might have done in the introduction.

Answer the questions "how?" and "why?". Provide some guidance to the readers.

Answer the question, "so what?". Convince your readers that your issue is essential.
Main Body. Including Diverse Opinions
Do some research before you start writing the body of your essay. Examine several college essay titles before you choose yours. It is essential to work on your arguments well. The more does not mean the better. Everything should be logical, harmonious, and objective.
Here is what you should do:
Create a topic sentence based on the controlling idea.

Clarify your controlling idea. Explain it and say why it is essential.

Provide some examples.

Explain your examples—state why they are relevant to your idea.

Check your writing. Remove unnecessary words or sentences. Make sure that you didn't miss anything.
How to End a College Essay? Conclusion
A conclusion is your last word on the subject. Finally, you should convince them it was worth their time.
There should be no new information in conclusion, only a summary. The key to success is to go back to what was written in the thesis statement. Reread your essay and assess 1) how much you stick to the topic and 2) how well you answer the question throughout the essay.
How to end a college application essay?
Return to the introduction and restate the main points or themes.

Don't just summarize. Instead, provide a synthesis of the information.

State why your research matters.

Introduce your solution, course of action, or a direction for further research.

Indicate how your specific issue connects to a broader theme.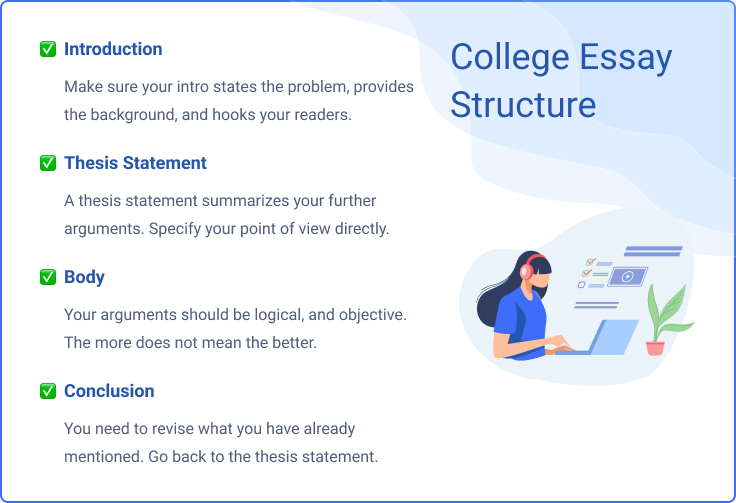 🔝 Top 7 College Essay Titles
We have collected the most popular college essay titles for you. In this passage, we will show you how to write good texts on different topics.
Sexual Assault on College Campuses Essay
Sexual assault towards young women and men is one of the biggest problems in the United States. It is a severe social issue on campus too. Twenty percent of women and 6 percent of men admit being victims of sexual assault at least once during their college years. This is a sensitive topic, and many students and college staff tend to avoid it. But we need to react and respond to the issue. College should be a safe place for everybody.
Your arguments might be:
Sex education has to be taught at schools. Everyone should be aware of what consent is. Preventing assaults is better than dealing with the outcomes.

Women get psychological traumas and

are afraid to talk about sexual assaults

. Many cases remain unreported because the victims feel ashamed. Victims are also at risk of another assault attempt. We need to offer protection and psychological help to them.

Colleges should take responsibility for applying safety measures on campus. Neglecting sexual abuse is a frequent practice when victims report it. College communities should worry about their reputation and safety on campus. They need to take systematic actions and monitor the results.

Rape is not the only kind of sexual assault we should worry about. Any type of ambiguous contact without consent is already a problem. It includes touching, coercion, and attempted rape. Sexual harassment might take many forms, and it's crucial to fight all of them.
Why College Should not Be Free Essay
Higher education is expensive, but it is worth it. Having a degree means you can apply for a better job and have a higher salary. It is like an investment in your future income. Education in the United States has always been paid. Many obstacles prevent US colleges from being free.
The arguments that support this opinion might be:
A free college education would lead to higher taxes. Taxpayers already give a part of their income to support public schools and many other things.

The quality of education would not be on the same level. It would be hard for universities to maintain their independence from the government and to cover their expenses.

The value of having a university degree would decrease. If everyone has a degree, it is not something that will help to get a job.

Genuinely clever and talented students can receive scholarships. There are so many ways to receive financial aid. Athletes and people with outstanding knowledge and good grades can find plenty of merit-based or need-based scholarships. Student loans with low rates are also an option for the people who can't pay for tuition.

College is a choice.

Not everyone needs to attend it

. Higher education is not something that every person should have. Some people even don't want it, but free education would create pressure on them.

There would be fewer people who apply for physically demanding jobs.

Colleges would be overfilled. Some of them would even need huge waitlists to manage all the applicants.

Job competition would rise. There would be too many people who have similar degrees on the job market.
Why College Should Be Free Essay
Many bright teenagers are not able to enter universities because their parents can't afford it. As a result, their lives don't evolve as they could have. They miss career opportunities, can't meet new people and soulmates. After high school, they need to find jobs that might be underpaid. These children don't study in colleges even if they are naturally intelligent and responsible.
Financial aid is not endless. Every year, there is only a limited number of students who can receive it. In many cases, it depends on how early you apply and how much money the college has. It is not a fair system for those whom colleges rejected only due to financial reasons.
Write about how free colleges might change your or other people's lives. Provide some examples of real-life stories. Then, describe the benefits of free education.
Your arguments might be:
College loans put too much pressure on young adults. It is rather challenging to find a job, a place to live and pay for tuition at the same time.

Parents choose to have fewer children because they can't afford their college studies. Some couples even decide to be child-free.

Some students need to find a job to cover the costs of their education. They can't invert all their time in studies, which is terrible for their grades.

Free education works for some countries. For example, European universities are primarily free. This way, they allow every teenager to have the same chances to succeed regardless of their wealth.
In conclusion, reflect on the main points and write about possible solutions. Reflect on the arguments and examples you provided. You can suggest a different educational system and explain how it should work. You can also write about the measures that can reduce tuition costs.
Should College Athletes Be Paid Essay
College athletes train hard and spend hundreds of hours on workouts and competitions. They put in an enormous amount of work and effort. However, they remain unpaid.
Why Should College Athletes Be Paid?
Your arguments FOR might be:
College athletes contribute to the universities' reputation and spend their time on training. They put a lot of effort and are constantly under pressure.

Most of the college games and competitions are paid for. They sell tickets, merchandise, and food during sports events. Some of the games are free for students, but they are commercial events. That is why athletes generate some income for their universities in this way. It is unfair that they are not paid for taking part in a billion-dollar industry.

Coaches receive most of the money that comes from their trainees. If it is a business, every participant should receive a fair part of the revenue.

College athletes can't have part-time jobs. So while other students have time to earn extra money, athletes are just too busy for it.
Why Should College Athletes not Be Paid?
Your arguments AGAINST might be:
Many professional athletes receive athletic scholarships. They get their money by reducing tuition costs anyway. Good athletic results are the reason why they got into universities.

In college, the main focus should be on studies, not on sports. Many other students spend long hours preparing their homework and doing projects. They put as much effort as athletes.

Paying college athletes would separate them from other students who also contribute to their colleges.
Why This College Essay
In this type of essay, you need to show that you know a lot about this university. It should not be something that you can just read on the website. Do some research. Talk to people who already study there. Read reviews. It is excellent if you have an opportunity to visit the university. If not, take a virtual tour.
Before you start writing, make a list of the reasons why you apply. Ensure you are honest when you say that this university is the one you really want to attend. You need to show that you are a perfect match for the college.
Here are the things you should focus on when you write a "Why us?" essay:
Describe the unique features of this particular college that attract you. It should be something more profound than the first google link. Do your research before you start writing.

Emphasize the opportunities you will get if you study in this college. But, again, it should be something particular. Describe the skills you can develop or internships you can get.

Write about your values and how they are similar to the college's values.

Mention your fields of interest and what you want to study.

Don't forget about the extracurricular activities that you can contribute to.

Connect everything you write about college to yourself. You might impress admissions officers with your knowledge, but they already know everything about the college. So provide some info about yourself.

Be specific. Your essay shouldn't apply to other schools.
What Will You Contribute to Our College Essay
Each university wants to have a diverse student body. It means that research, sports, and other social activities will be on a high level. Show your strong sides and describe your interests. For example, if you are a great athlete, mention what you can do, not only what you have done.
The college wants to make sure you will graduate and become successful. Highlight your strong sides and be honest.
It is also about the community. Your hobbies and skills might be great, but not all of them match the college. For example, if you are a great musician but the college isn't interested in it, don't include it in your essay.
Here are the things you need to mention in this type of essay:
Your academic interests. Write about the classes you want to attend in this college and why you think they fit you.

Your hobbies and activities that match the college. Write about the things you are good at and how the college will benefit from them. Mention your activities in high school and how they will be helpful in the university.

Your social skills. Describe why you will be a good classmate. Admissions officers look for people who will contribute to campus life and not provoke conflicts or be a source of problems.

Your unique qualities. There might be many prospective students with the same or nearly the same talents or skillsets.

Your plans (briefly). Do you want to continue your education and get a master's degree in this college? Tell them why your goals will be helpful for the college's reputation.
Why Is College Important Essay
A college education is optional, but thousands of teenagers and young adults want to get a degree. Universities also attract their applicants with social life and extracurricular activities. Some people might say that college is just a waste of time, and it doesn't help develop the relevant skillset.
You can use these arguments in your Why Is College Important essay:
Colleges allow finding a well-paid job. On average, college graduates receive higher salaries than high school graduates. Universities provide students with skill sets that are necessary for intellectual employment.

Colleges help to develop critical thinking. You have to write essays, review materials, and work towards challenging deadlines.

Competition in college is an excellent stimulus for studying and self-development. College makes you see that many other students study hard and do their best to be successful.

Colleges provide a perfect environment for studying. You might find a lot of information online or in libraries, but it will not work the same way. College professors evaluate your work and give feedback, which is crucial when learning new skills.

Colleges also develop soft skills. Apart from just book knowledge, there are lots of team projects and social activities. People get used to working with others, which is crucial when it comes to further employment.

College helps young adults find their path in life.
You can use these counterarguments in your essay:
Colleges are too expensive and take too much time. Having the same money, you can alternatively spend less time and study precisely what you need. You don't need to spend four years in college to have enough knowledge and practical skills.

A degree will not necessarily help you to get a job. Your work experience and ability to be flexible are more important.
Other Essay Topics on College Education
🚫 Bad College Essay Examples
Remember that essay readers see hundreds of writing pieces every day. They read pretentious phrases, boring statements, and irrelevant streams of thoughts. Your task is to make your essay hooking and show your personality at the same time. The admissions officers look for people who will be academically successful and contribute to the college's social life at the same time.
However, many students tend to overcomplicate or misinterpret the task.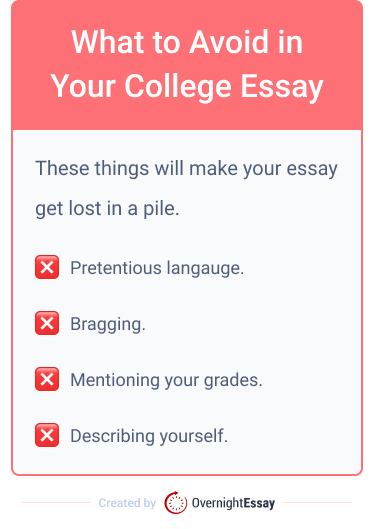 Here is the list of things you shouldn't do:
Avoid such phrases as "My passion for" or "My thirst for knowledge". Any phrases like these don't engage the readers and make you sound pretentious.

Don't brag. Volunteering, thriving in sports, or being a good student is great. The thing is that too many people write about their accomplishments, but not about themselves. Your medals don't explain what kind of person you are.

Don't mention your grades or test scores. The committee already can see them.

Don't just describe yourself. Provide examples. Instead of saying that you are smart, write about situations the when this trait was prominent.
College Essay Topics to Avoid
Here are some topics that you should avoid not to sound pretentious or dull:
Writing a long list of your accomplishments. There are too many essays that look just like that. Don't try to impress other people, just simply writing about how special you are.

Sports. There is nothing wrong with sports, but your essay might get lost in a pile. Thousands of teenagers write about winning competitions and scoring goals.

Sensitive topics. Religion or politics are not the best choices. You don't know who will read your essay and what their position is.

Illegal actions. Even if it is in the past, don't write about it. Such experience might provoke a negative reaction of the readers.

Your role model. The problem is that you switch your focus to another person. Even if you write about yourself, the word limit won't allow you to do it entirely.

Tragedies. Applicants tend to focus on the negative side of the experience, not on themselves.

Romantic relationships or family issues. Think of your admission essay as your job interview in this case. Don't share information that is too personal and doesn't highlight your professional traits.

Moving to a new place. It is a rather popular topic too. Many future students write about how hard it was for them to adjust to a new location.
🔄 College Essay Format Recap
Let's revise everything we mentioned in this article:
✔️ Your main goal is to show that you are a person sharing the same values as your dream college. You need to prove that you will be useful academically and socially and will succeed after graduation.
✔️ Common application essay has a strict word limit of 650 words. You need to make sure that you put every aspect that you want to highlight and don't exceed the limit.
✔️ College essays require deeper research and more reflection than high school essays. It means that you need to spend more time and effort on your writing.
✔️ Don't use cliche phrases or statements in your essay. Avoid overcomplicated and pretentious statements.
✔️ You need to impress the admissions officers with a creative approach and an untypical essay. Avoid such topics as sports, tragedies, romantic involvements, politics, and religion.
Now, that you know the correct format of a college essay, we can let you go.
And one more advice: don't neglect practicing. The more drafts and essays you write, the better result you will get in the end.
We wish you productive work and successful application!