College writing and research may seem hard, especially for newbies. It becomes easier to compose an academic piece if you have a handy example. Thus, students always look for reliable research databases – sources of proven-quality essay samples. Here is a detailed review of one of such student treasures – Nerdy Tom.
We will write a custom paper
for 12.00 10.20/page
based on your instructions
568

certified writers online
👀 What Is NerdyTom?
No Nerdy Tom review can be complete without a detailed discussion of the website's features, sections, and options for students. The first thing you need to know is that it's a free essays database containing hundreds of academic papers for your reference.
You can search for relevant essays in 15+ academic subjects, including Philosophy, Law, Education, Literature, Psychology, Sociology, and many more. A handy search tab is at the top of the site's main page. So, if you're not sure about your subject or need to find specific content, just type your search word or phrase into that tab to see what samples the database has.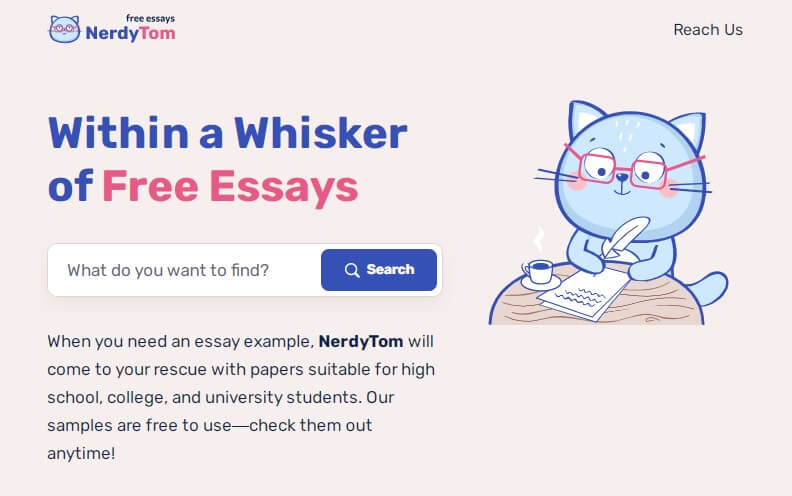 Using this essay database is extremely simple. The website's layout was made with user-friendliness and minimalism in mind. Thus, you'll see only relevant samples and the search filter on the site's main page, and the rest of the features are conveniently placed in its footer. The footer contains all organizational information like instructions for paper upload and withdrawal, terms and conditions, the company's confidentiality guarantees for contributors, and the FAQ section with user inquiries and explanations. The users can also learn more about the Nerdy Tom project by visiting the "About NerdyTom" section.
So, in a nutshell, Nerdy Tom is a free database with weekly content updates and academic examples in dozens of subjects. It is forbidden to copy and paste the published samples and submit them as your work. All texts are protected by copyright, but the website provides the ready citation feature in its footer. You can use it once you want to cite an idea or essay fragment in your writing piece. Yet, Nerdytom.com is a handy educational resource for students to draw inspiration or find proper structure for their academic assignments.
In
only

3 hours
,
we'll deliver a
custom essay
written 100% from scratch
🎓 Is Nerdytom.com Reliable?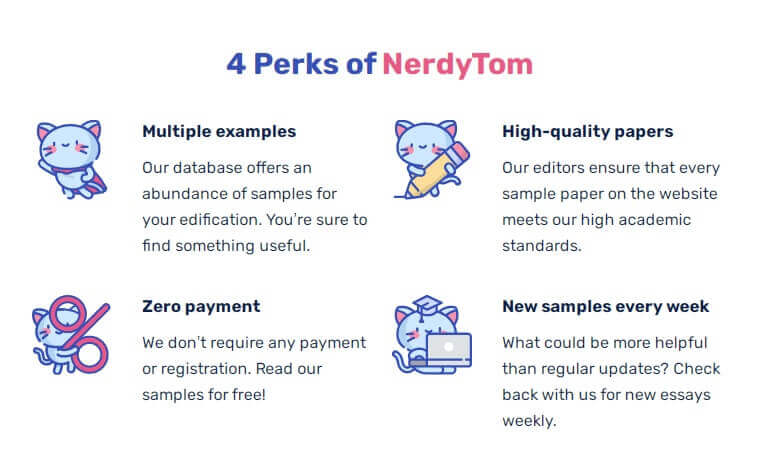 Let's continue our NerdyTom review with an assessment of its reliability. The quality of the content is the crucial characteristic ensuring an academic resource's reliability and trustworthiness. Thus, our analysis of this essay database revealed the following:
All free essay writing samples on the NerdyTom website are original and non-plagiarized. Every text you can study here was written in line with the academic writing standards of originality and quality.

All papers are submitted by top-grade students and checked by experts. Whether you're confused about the citation style or don't know how to format an essay in the APA or MLA format – Nerdy Tom has it all. Follow the examples published there, and you'll never go wrong with citing, paraphrasing, and structuring information.

The project's support representatives are carefully selected among experienced academic authors with in-depth knowledge of writing conventions. So, they can fine-tune the essay examples they get from contributors before publishing them for open access. As a result, you get finalized papers for reference, free from formatting, stylistic, and grammatical errors.
Is NerdyTom Legit?
Now, a couple of words about the legality of such a project. Is it possible to access a free essays database without legal repercussions? And what is the ethical side of using such a resource?
First, you should note that Nerdy Tom is a free resource with samples available for reference and learning purposes. Use the examples to see how students approached your subject before, what arguments they used, and what sources they found to back their standpoint. Nobody can copy and paste the published content, pretending they wrote the essay. If you submit such a copy-pasted paper to a supervisor, you are guaranteed an F for the assignment, so don't take these risks.
Second, it's critical that the database doesn't have any paid services, so you can be sure that this website is not an essay mill. While there are many legal and ethical issues related to academic writing services, this database is a legit provider of paper samples.
Is Nerdytom.com a Scam?
When discussing academic scams, the key point to consider is whether the website takes money from students for writing help. We have searched the Nerdy Tom website deep and wide but didn't find any mentions of writing requests and paid writing services. Therefore, NerdyTom can be regarded as a legit database with free, publicly available samples, with no hint of being a scam.
Get your very first
custom-written
academic paper
with 15% off
Additional proof of no association of NerdyTom with scam activities is its terms and conditions section. It lays out all the legal and administrative nuances of working with the database. One of the terms says that students cannot engage in commercial activities with the company's representatives or republish the content they find here.
📝 How to Use Nerdy Tom? Academic Essay Database Review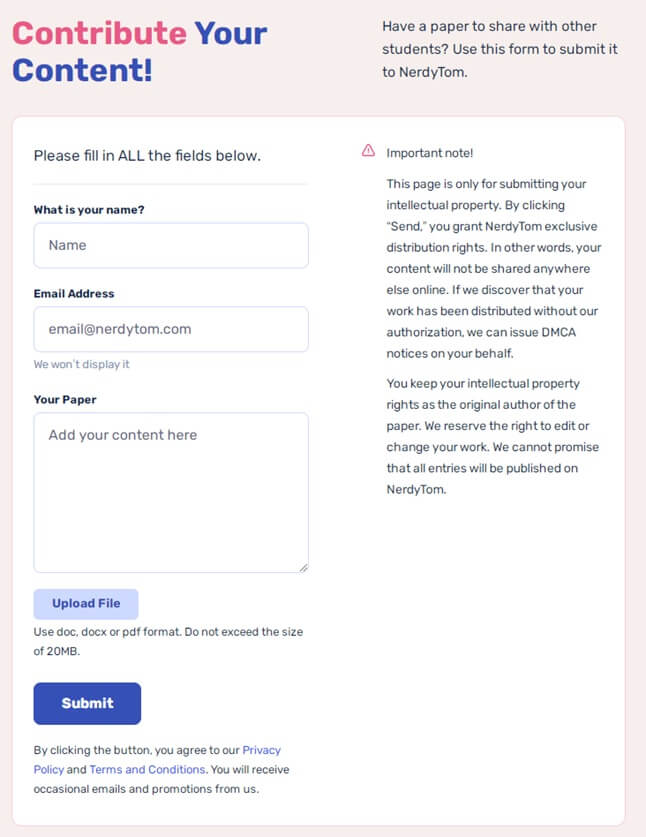 It may also be helpful for many of you to learn what functionality NerdyTom offers and how you can access it. We've produced a detailed step-by-step review of all features and options to maximize the value of this database for you. At present, you can take advantage of the following:
📌 Main Page
Once you type "nerdytom.com" in your browser, you will move to the free database with samples available for all students for educational purposes. The main page displays a nice logo of a sweet nerdy cat that indicates that all published essays are free.
📌 Filters and Search
For clarity and simplicity of use, the main page offers only two options – a search filter for keyword search and a "Reach Us" button in the top right corner. Students use the filter to find a sample written on a specific topic. For instance, you can enter the word "marijuana" if your home task is to write about marijuana legalization.
📌 About NerdyTom
The footer contains several additional sections that make the source's use more convenient and versatile. The FAQ section talks about the sample collection process, the quality of published samples, and limitations in the use of open-source texts. The "About NerdyTom" page tells the story about the project and introduces its users to the company's objectives.
We will write a custom paper
for 12.00 10.20/page
based on your instructions
📌 Paper Submission and Removal
The footer also contains the "Contribute a Paper" and "Paper Withdrawal" sections that explain how students can contribute their samples and withdraw their content from the platform. Use these guides if you plan to share your content for educational purposes or have changed your mind.
📌 Contact Information
The "Reach Us" button will take you to the contact form, where you're asked to indicate your name, email address, and message. However, keep in mind that this form is not meant for ordering writing services. Here, students may get additional information about the project, leave their improvement suggestions, or report a bug or mistake.
📌 Legal Information
If you're interested in how the website uses your data, all details are conveniently discussed in the "Confidentiality and Cookies" section. Here the company explains its policy regarding personally identifiable information, protection of personal information, log file management, cookies, and data sharing with advertising partners. Online privacy terms are laid out, and the third-party privacy policy is explained in detail.
💡 Conclusion
As you can see from our Nerdytom.com review, this database with free essay samples can be confidently called the best resource for student beginners. You can find tons of valuable paper examples for reference and use in dozens of academic subjects. By scanning the samples donated by students to Nerdy Tom, you can capture the structure and approach to different home tasks, speeding up your progress to writing excellence.