Never underestimate the importance of teamwork: every great project needs several people to accomplish it. The ability to work in a team is helpful in studies, in the workplace, and even in communication with friends and family. We are sure that you have had an opportunity to work in a team and noticed the benefits of collaboration.
We will write a custom paper
for 12.00 10.20/page
based on your instructions
568

certified writers online
A paper on teamwork is a great opportunity both for research and reflecting on your experience. This article will give you some writing prompts, essay topics, and samples on teamwork. Let's start!
💡 Essay about Teamwork: Writing Prompts
Are you wondering what to write in a teamwork essay?
Use the prompts below. Each of them covers a specific theme that you can include in your essay. Develop one idea if you have to write a 100-word paper. If the word limit is more extensive, use several of them.
1. Advantages and Disadvantages of Teamwork
Teamwork has several advantages and disadvantages. They are essential to consider to reach maximum productivity.
In
only

3 hours
,
we'll deliver a
custom essay
written 100% from scratch
Let's take a look at the advantages that you can discuss in your essay about teamwork:
Brainstorming in a team is a great tool that helps to produce more ideas.

Team members altogether possess more

skills

than one person.

You can learn new things from other team members.
And here are the disadvantages:
There can be an unequal division of work which provokes

conflicts

.

You need to spend time on various discussions that might go off-topic.
2. Teamwork Roles and Responsibilities
Each team member has a position according to which they are responsible for different functions.
Here are three typical roles in a team:
Leader. It is the person who provides the whole team with the instructions and resources needed to achieve the result.

Active participant

. These team members are good at

performing the assigned tasks

. They might be specialists in particular spheres or possess the general knowledge that the team needs.

Analyzer. When a team needs to make an important decision, an analyzer is always ready to provide knowledge. They inform team participants about possible outcomes and potential pitfalls.
If you have experience with any of these roles, describe it in your paper. For example, it can be an essay on teamwork and leadership if you have been a leader in a team.
Get your very first
custom-written
academic paper
with 15% off
3. The Importance of Teamwork in School
Children need to develop their skills of working in a team from an early age. This develops their ability to cooperate in the future.
Let's focus on the psychological benefits of teamwork for children:
Socialization. Children learn how to communicate efficiently. They become active listeners and speak their minds.

Creativity. Brainstorming, sharing ideas, and completing challenging tasks stimulate imagination and intelligence.

Leadership. Working in a team boosts children's self-confidence and management skills.

Healthy competition. It helps children to succeed later in life and not to be afraid of challenges.

Support and responsibility. Teamwork is an excellent way to learn the balance between helping others and accomplishing own tasks.
4. The Importance of Teamwork in the Workplace
Working in a team towards a mutual goal is an essential part of the corporate culture. However, it might be a challenge for many people.
Discuss the problems that might occur in a team of professionals. Offer your solutions or explain the causes.
Here is what you can describe in an essay on teamwork in the workplace:
We will write a custom paper
for 12.00 10.20/page
based on your instructions
What are the effects of working under pressure?

What are the ways to solve conflicts among team members?

How to plan work and meet deadlines?

KPIs that measure a team's efficiency.

Covid-19 pandemic effects on the organization of teamwork at the workplace.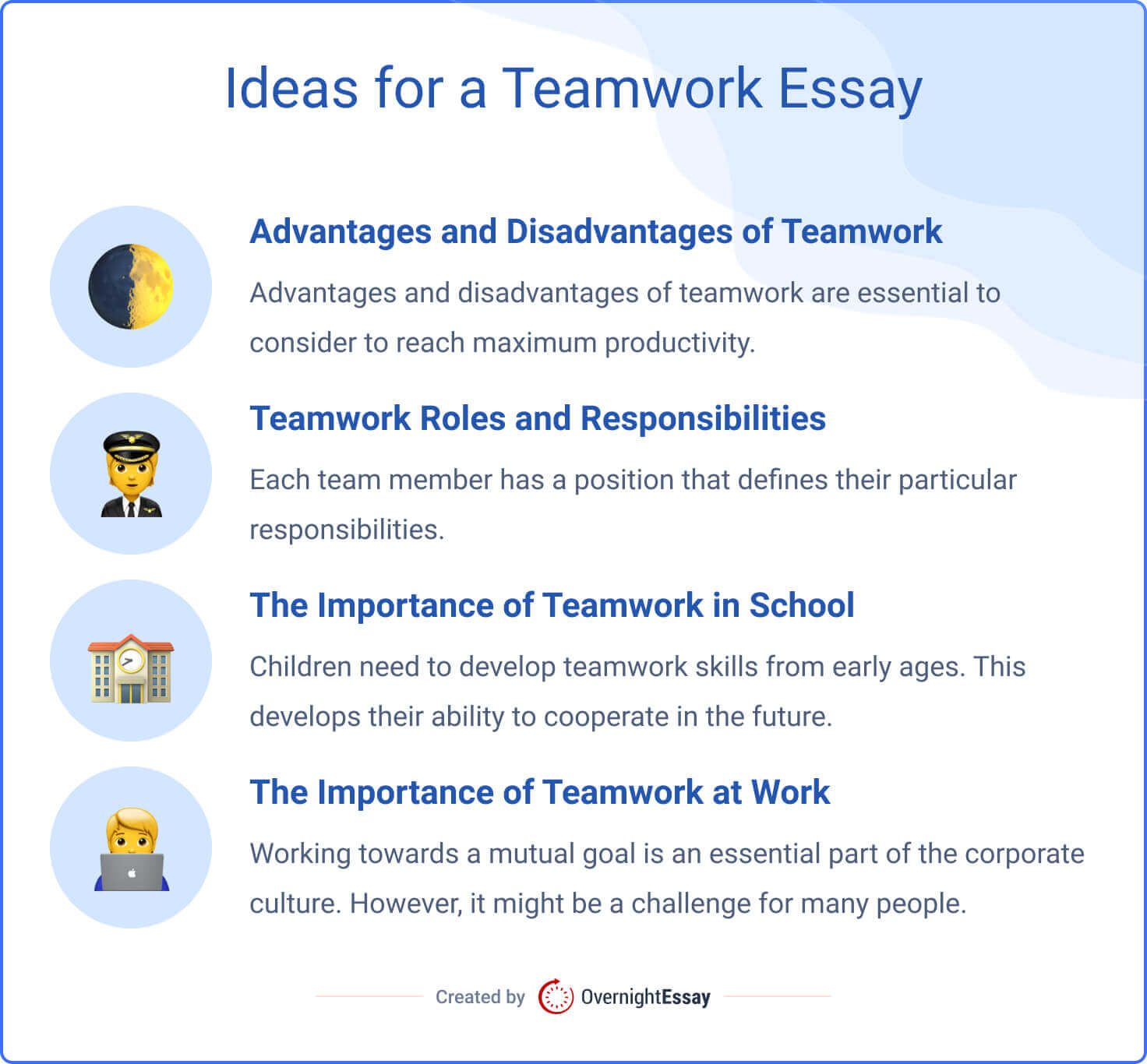 📚 90 Teamwork Essay Topics
And here are some teamwork essay topic examples. These titles apply to essays of any difficulty. You can use them for class 5 or 6 papers and college assignments as well.
Let's choose the best one for you:
Why children need to learn how to work in a team.

Describe your best experience of working in a group.

Is teamwork or individual work more productive for you?

What psychological factors determine the success of a team?

How can you find out what team role suits you best?

Have you ever had an unsuccessful experience working in a group?

How many people should be in a perfect team?

The importance of

teamwork

in competitive sports.

Can a team be successful if there are two natural leaders?

The art of task delegation in big teams.

How to choose the right people for your team.

Can one person spoil the workflow of a whole team?

Describe your first experience of working in a team.

Does teamwork make your life easier or more complicated?

Describe your dream team for one of your projects.

What skills have you developed while working in a team?

Do deadlines stimulate teams to work better?

The reasons why collaboration is essential for college students.

What is the essential lesson teamwork has taught you?

What are the main advantages and disadvantages of teamwork?

Is it possible for introverts to successfully work in a team?

Describe your worst experience of working in a team.

What skills do you need to be a good team member?

The main types of teamwork in medical school.

The role of collaboration in startups and small businesses.

Describe a current project that you work on with a team.

How often do you work in a team?

Tell about a problem that you solved working in a team.

What is your typical role in a team?

The importance of collaboration in a family.

Is it difficult for you to work with new people?

How to establish friendly and productive communication in a team?

Does multitasking make teamwork more or less effective?

The role of emotional intelligence in collaboration.

How to choose people who will work in your team?
📝 3 Teamwork Essay Examples
And now it's time to read our teamwork essay examples. You can use them as a reference for long and short papers. Just pay attention to the structure.
Essay on Teamwork and Leadership
I had never thought I was a leader until my first experience working in a group. We had to develop a project on sustainability for our biology class. I had the most knowledge in this sphere, so I became the leader of the team. This experience taught me to delegate tasks, solve unexpected problems, and be an active listener. Even if you know how to do something well, you need to be able to delegate. We were sewing tote bags for shopping. Although I am good at drawing, I assigned print design to my friend. She did the task well, and I had an opportunity to focus on cloth choice and sewing. I know that it would have been so much longer if I had done everything myself. Another challenging moment of working in a team is that the number of potential issues grows with the number of people. One of our boys got sick. I had to divide his responsibilities among the other team members, so everyone got an equal part. If you work in a team, you need to be ready to listen and take notes. As a leader of the group, I was responsible for making a final decision on each thought. Great ideas might be unexpected, and you never know who can come up with the next one. It happened on so many occasions in our team. We created our logo, chose the best materials and designs only because of the ability to support and respect each other's ideas. In conclusion, I like the role of the leader of a team as I learned many things. I became better at managing others' responsibilities, reacting to emerging issues, and observing others' ideas. I look forward to further teamwork to improve these and other skills.
Essay on School Teamwork
You cannot just spend all your student years and not collaborate with others. There are times when you have to work in a team. It might be a group project or just someone's initiative to do homework together. Teamwork is essential at school as it enables students to work on more significant projects, boosts creativity, and engages in the studying process. Several people can accomplish more than one person within the same timeframe. Besides, each team member has a different spectrum of knowledge and skills. More heads allow you to have more ideas and perform more tasks as a team. That is why companies hire new people to become more successful. Brainstorming is an excellent tool for developing new ideas. One student can have a good thought, while another one can make an action plan out of it. Being able to absorb and analyze each other's opinions makes your mind more open to new ideas. In other words, it makes you more creative. Society is a person's natural need. It is always more interesting to study with others. Even if you don't have much motivation to examine a particular issue, you still learn it while communicating. It was always easier for me to listen to a person than to read a book. Teamwork motivates students to discuss their visions and thoughts, which makes them more involved. School is not only about books and formulas. It is also a place where you learn how to cooperate with other people. Eventually, you see that you can achieve more, broaden your outlook, and have more motivation to study with a good team.
Essay on Teamwork in the Workplace
Every great product is an achievement of teamwork. But how do you know that a team will be successful? There is no playbook as each case is unique, but several components are necessary for effective collaboration. The main factors that define a good team in the workplace are its diversity, efficient communication, and clearly defined responsibilities. It is beneficial for a team if the members have different backgrounds and are proficient in different areas of expertise. It helps to see complex problems from various angles and choose the best solutions. People who possess different strengths choose their roles in a team according to them. Of course, all the skills need to be relevant to the goal of the team. There should be no misunderstandings or communication delays. If something is not one hundred percent clear, it is better to ask additional questions to avoid making mistakes. Working in one place makes communication faster and more accessible for all the participants. That is why regular meetings and quick responses are a must for every team. When everyone knows what they are responsible for, there are fewer conflicts. It is vital to ensure that every team member does what they are good at without interfering with others' tasks. Teamwork also involves the individual work of each participant that requires deep focus and no distraction. The best solution is to define the members' responsibilities at the very beginning. Teamwork is essential if you aim to create something meaningful. You need people who will work as hard as you towards a mutual goal. Each particular case requires a specific approach, but certain things are always the same. If you want to do your best as a team, make sure the people you choose have different skills, establish fast communication, and provide them with clear areas of responsibility.