Congrats! You've passed the test! Now you need to write a personal statement section about your unique traits.
We will write a custom paper
for 12.00 10.20/page
based on your instructions
568

certified writers online
The primary question you have now sounds somewhat like "How to organize my personal statement to get enrolled?"
The good news is waiting for you on this page!
We have all the answers you need about the strategy of a personal statement: outline, tips, and good personal statement outline examples are here.
Enjoy!
In
only

3 hours
,
we'll deliver a
custom essay
written 100% from scratch
📍 Definition of a Personal Statement
Alright, it's time to learn what exactly a personal statement is.
The personal statement is your chance to present yourself in the most flattering light to the application committee members or your potential institution/employer. It's time to impress with your achievements, personality, and skills.
Note that there are several formats of presenting yourself while applying to an institution or a job:
admission essay

application essay

personal statement

statement of purpose
In fact, these concepts express the same idea: to sell yourself most advantageously. However, there are minor peculiarities. We'll look upon them in the next paragraph!
Personal Statement VS Statement of Purpose
First of all, the personal statement is slightly less formal than the statement of purpose.
The next difference between them reflects in the contents:
Get your very first
custom-written
academic paper
with 15% off
A personal statement demonstrates your eagerness and motivation to get enrolled in a particular place. It has to show who you are.
A statement of purpose tells about your future goals and intentions: what benefit can you bring to an organization?
📑 Personal Statement for College Outline
The primary goal of a successful application essay is to highlight you among other candidates. For accomplishing that goal, the first essential is a well-organized personal statement outline.
This section will be meticulously studying the peculiarities of an outline of a personal statement for college.
How to Organize a Personal Statement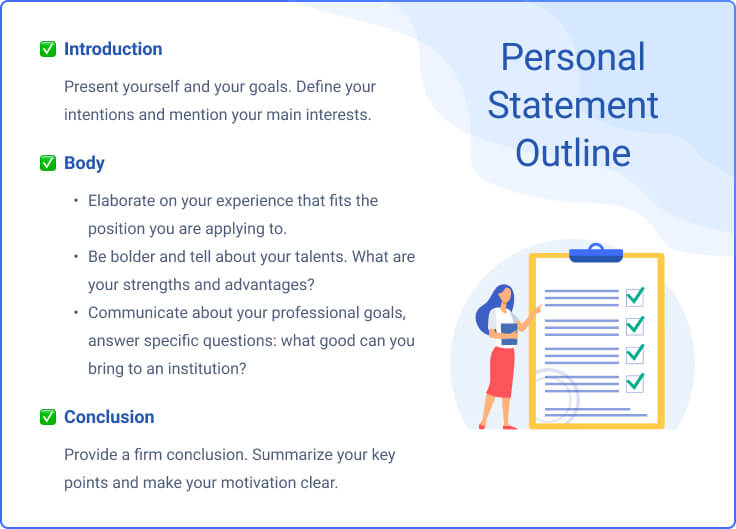 Before writing a personal statement outline, you should set up the primary goal of your application essay.
We will write a custom paper
for 12.00 10.20/page
based on your instructions
What result do you expect by writing it?
Most likely, you want your college application to bring you to the freshmen community eventually.
To get it, you have to include all the significant achievements. Thus, the next step is to brainstorm the ideas to choose from later.
Make up a list of the important things to mention in your application writing:
Academic background details,

Nuances of preparation and training process,

Skills, researches, and awards,

Your motivation.
This is just the beginning. Now let's go deeper into the details of the structure.
Although a personal statement is not a regular academic essay, it has to follow a particular plan. It will be pretty similar to the outline of standard persuasive writing:
Introduction
Briefly present yourself and what you pursue. Define your goals and intentions in this part. It's also a place to mention your main interests.
The central part can be divided into three logical sections
Elaborate on your experience that fits the position you are applying to. Provide the readers with good examples of your accomplishments.
Be bolder and write about your talents. There certainly are many things to mention! What are you good at? What are your strengths and advantages?
Communicate about your professional goals. It's great to answer specific questions: what good can you bring to an institution? What is your desirable development perspective?
Conclusion
Finish it all with a firm conclusion. Summarize your key points. Connect all that you mentioned with the desirable position, making your motivation clear.
Once you've managed to write your draft, you'll get a clue how to title your personal statement.
Personal Statement Intro
Imagine meeting someone for the first time. First impressions are very lasting, right? Especially when it comes to creating a personal statement. The key idea is: if your introduction hits home, the reader is yours. After reading a genuinely engaging intro, one wants to figure out what else you will tell.
However, a merely great intro is not enough to reach the goal. Keep in mind that the rest of your personal statement has to be strong too.
If you want to figure out how to organize a personal statement introduction, follow us. There are some crucial things to know.
Here is the recipe for a great intro:
A hook for your readers' attention: let it be a fact about you that sounds intriguing and engaging.

Perform a brief but consistent introduction of yourself as a person. Who are you? What are the main traits that describe you as a personality and professional?

Provide a piece of information concerning your background that is relatable for the position.

Make sure each constituent in your intro connects well to another one, and the flow is smooth.
How to End an Application Essay / Personal Statement
It's time to wind up, and you have some difficulties with how to end your application essay?
No reasons to worry!
Stay here, and you'll learn about the ending of the personal statement for the college.
The final touch of the college admission paper is a firm conclusion. By saying 'strong,' we mean such one that leaves your admissions officer impressed and filled up with a desire to get you enrolled.
You can end your writing with the summary of facts mentioned before. It is crucial to link it all with the position you're applying for.
Write out all the significant facts about your background and goals.

Say it in other words and add some information that is not brand new but specifies what you've said before.

Let your readers know about plans in case you get enrolled. How will your life change?

Organize your conclusion in a well-curated structure and proofread it.
📏 How Long Is a Personal Statement?
Whether you want to enter medical school in the UK or apply for law school in Canada, the rules are the same almost everywhere. To avoid dropping out of the format, you have to know how long a personal statement is.
What Is the Typical Recommended Length of a Personal Statement?
So, how long should a college application essay be?
It should include approximately 350-500 words (2600-3000 symbols) or 1-2 pages in regular font and size. The most optimum option would be 1,5 pages with a clear-cut structure and distinguished paragraphs.
Remember, if you violate these prescriptions, your application might not be read further.
Writing a too short personal statement is also risky. An application officer is likely to doubt your skills and experience.
That is why you should stick to the words and paragraph limits as closely as possible.


⛔ 250-Words College Personal Statement Examples: How NOT to Do
To make a good impression, you have to know all the ins and outs.
But what about the red flags?
It's also vital to know the potential mistakes.
So, let's look at the bad examples to figure out the flaws you should avoid in your application letter.
Personal Statement Failure #1
One of the most common mistakes is too aggressive attempts to sell oneself. The apparent and even ridiculous lies go here, too. You can observe such errors in the following personal statement of a person who's trying too hard to get to a medical school:
I am a natural-born doctor. Since I was two, everyone would call me a little Frankenstein because I performed numerous biological experiments with animals. All my family kept telling me I would make a perfect surgeon. When I was learning to speak, the first word in my vocabulary was "medicine." My mother didn't even get offended because it is evident that she created a remarkably gifted child. Since my childhood, I studied the inner world of local birds and frogs and performed surgeries on worms. I haven't ever got any other mark in Biology except "excellent." Biology and chemistry teachers always praised me for the outstanding results in various contests. I didn't even spend time playing outside with my friends. All I ever did was studying, watching surgery tutorials, and consuming volumes of professional medical literature. I am grateful to my family for believing in me and my teachers for inspiration and knowledge. I am sure I can make a significant difference in this field with my eagerness and talent. I would be thrilled if you allowed me to enter your institution. So, dear committee members, I am kindly asking you to consider my application as a priority…
Experts analysis:
Such solid and emotional words like "outstanding," "perfect," or "best of the best" don't add to your professionalism.

No matter how talented children may be, they are unlikely to have "medicine" as the first word. This piece seems ingenuine and misleading in general.

Being cruel to animals in childhood is also not a golden ticket to a good university. Avoid such shocking details. Evaluate what you write about in terms of ethics.

It's hard to imagine a triter cliché than "to make a difference."

Avoid using too many intensifiers in your letter. Use rational arguments instead.

At last, don't beg application officers to take you. Let them make a decision based on your experience and skills.
Personal Statement Failure #2
The next disadvantage of a bad application essay is stale expressions and clichés.
My only dream ever was to enter the best law school. I have been craving to become the most fantastic lawyer of all ever existed on Earth. I suppose that my traits and characteristics will contribute to it amazingly. My considerable experience and outstanding skills make me the fittest candidate for your law college. I haven't stopped reading law books and journals 24/7 for the last decade. I am also fond of true-crime TV shows and spent hours watching them. I am absolutely astonished by these professional and shrewd detectives. I wish I could become one of such. Once when I was 11, my neighbor gave me his Colt to learn how to shoot sparrows. Thus, you can be sure of my extensive knowledge in this sphere. I can't wait to enter the best law school globally and learn from the best professionals in this field. I am eager to get through any challenges and difficulties because I have come through many such things during my life. For example, I lost my favorite dog when I was five years old. It was a brutal and highly traumatic experience. We used to spend a lot of time together, but I managed with the stress…
Expert analysis:
Instead of a grasping hook, there is a bland and cliched sentence — all the school graduates "dream of becoming" someone.

Too many excessive personal details giving no helpful information about an applicant's background and fundamental skills.

One has to enumerate specific skills and features that are needed for the position.

Again, too many intensifiers also make the paper sound trite.

Mentioning the Colt shooting is not the best option for one who wants to enter a law school. Probably, not the best thing to do for anyone.
Personal Statement Failure #3
Hello, dear committee members! I would like to present myself to you so you could see that I am a true gem for your institution. I want to start by describing my talents and natural abilities. I didn't learn the alphabet. I was born with the ability to read, no cap. But it's a trifle, for real. The top-notch fact about me is that I am a natural-born financier. You probably heard of Frank Cowperwood, did you? It is the most famous of Dreiser's characters, a great financier, a banker. I am saying it in case you haven't heard about it. I knew how to count since I was two years old. I also have been striking great bargains since childhood. My parents gave me fruits to school, and I sold them to my classmates. Well, at school, I wasn't just a good financier. I also had absolutely outstanding results in math. Sometimes my teacher was so astonished by my knowledge that she asked me to conduct classes. In middle school, I started investing and already have my shares in all big companies. So I ask you to consider my application, so I could get started and yield benefits to your business school. If you refuse to get me enrolled, I am sure that you'll regret it very soon because it's the next Warren Buffet who's writing this personal statement.
Expert analysis:
Bragging: there's so much of it that it seems like the author is joking.

Using slang. The personal statement is the most inappropriate place for that. Instead of hobnobbing with application officers, you have to show how seriously you take the process and how responsible you can be.

Impossible facts: avoid lying about yourself by all means.

Too many repetitions: makes the speech bland and poor.

The text isn't divided into paragraphs, making it hard to read.
✔️ 250-Words College Personal Statement Examples: How to Do
Alright, it's enough. It was pretty tough to deal with such awful personal statements, wasn't it? Let's switch our attention to much more pleasant things.
We would like to present good personal statement examples that you can use as samples and inspiration sources for yours!
A helpful tip: focus on the personal statement intro when reading good examples and put down ideas you can use in your essay!
Personal Statement Example #1
One of the most famous American physicians, Martin H. Fisher, once said: "Observation, reason, human understanding, courage; these make the physician." These are the concepts I wish to pursue in my life. I have consciously chosen the path of growing more reasonable, understanding, helping, and courageous by becoming a doctor. While volunteering at a children's hospital in my gap year, I've realized nursing or being a doctor is a challenging but worthy path. I am fully aware that becoming a professional and capable physician takes many years of careful study and work. This is one of the reasons I've decided to apply for the medical college in the first place. I admire the quality of knowledge your college gives to students, for I've met the school graduates of great competence and skills. Honestly speaking, I do not consider my experience in medicine prominent, but I've got the highest grades in biology and chemistry at high school. Besides, I've attended extracurricular classes and won special prizes for my research works. I have attached them to this letter. My desire to serve my best in this field is considerable, for I believe each person has their mission and purpose. Mine is saving people's lives and contributing to the nation's well-being. I would be most grateful if the respected application committee would consider my personal statement. I could give the promise to stick to your rules and code of laws and perform as well as I possibly can. I appreciate your reading my application letter and will be looking forward to receiving your feedback.
Expert comments:
An essay starts with a relevant quotation by a famous and credible person. Such a hook catches an application officer's attention at once.

It's good to talk about your previous experience relatable to the position. But be honest here, do not exaggerate facts.

The applicant speaks about emotions and personal impressions from volunteering. It tells of good emotional intelligence.

The would-be student is aware of the hardships of the profession and admits it.

The tone of the message is polite and formal enough but not too much.
Personal Statement Example #2
A quotation by Henry Petroski, a famous American engineer, inspired me a lot once I read it: "As engineers, we were going to be in a position to change the world – not just study it." This is what I aim for – making my contribution to changing this world for the better through engineering. Let me introduce myself to create an impression of my personality and decide whether I fit your institution correctly. I have graduated from a high school with honors and the highest rate in physics, maths, and chemistry. I mention it because I wish to deliver an idea that I have been greatly interested in science and engineering since my early childhood. At first, I got low marks because teachers at school considered me untalented. They would say that I'd never make anything in this field. This hardship didn't bring me down. I wanted to prove that my interest and eagerness are much more significant than my natural abilities. I started to spend all evenings studying books on engineering and physics. By academic year 11, I won the city's prize in the contest for inventing a device that helps reduce water consumption in a household. I would be happy to study engineering at your college because I get inspired by your professors and their noticeable results. I believe we could make this world a better place by inventing new helpful tools and improving the existing ones…
Expert analysis:
Here we can also see a good hook – a quotation that reveals the author's purposes and goals.

The text is well-structured and divided into logical parts. It makes the personal statement easy to follow.

The author writes respectfully, following the grammar and spelling rules. A personal trait – carefulness – is brought to the surface.

An inspiring life story makes the audience believe the applicant's keen desire and readiness to study and become a professional.
Personal Statement Example #3
One mystery has been haunting me my whole life. I've been trying to figure out whether life imitates art or vice versa. Creating my first drawings, I was wondering why this process is so soothing and enriching to me. I am perfectly aware of why I want to apply this knowledge in your art school and develop as an artist. The presence of painting and sculpture in my life is constant. I've been brought up by an art teacher who taught me the fundamentals. As a child and teenager, I was fascinated by the role of light, a harmony of proportions, composition. My home library was full of books: art history, various guides, and textbooks. Sometimes, some things and concepts were difficult to understand and implement, but I was stubborn and curious. I asked my parents to send me to summer art camp, where I learned and volunteered at different exhibitions and art performances. When I was in high school, I started to prepare myself for entering your institution. The prominent graduates of yours motivated and inspired me. I also participated in the contest of young artists that your institution conducted last year. It was a great happiness to win the first prize. At the moment, art doesn't imitate life for me. Art is life itself, as I feel it this way. My main goal is to grow as an artist and open an art therapy center. I am sure that I can pursue my dreams by developing my skills at your art school. I also want to participate in global contests and exhibitions, to bring more glory to your institution.
Expert analysis:
The author attracts the readers' attention by mentioning some 'mystery' – a simple human curiosity keeps us reading.

The famous quotation by Oscar Wilde is smoothly implemented into the text. The committee member understands that a person is well-informed: it's a good sign.

The applicant exposes their goals in a sophisticated and a little high-flown way but also very clear.

Even though art is a very creative sphere, the author's background seems to be distinguished and credible enough.

The applicant also communicates a clear perspective of being useful for the institution.
✔️ 500-Word Personal Statement Examples
500-Word Personal Statement Example #1
Steve Jobs once said: "And the only way to do great work is to love what you do." It was part of his speech back in 2005 for Stanford students, and I've remembered it forever. I have the same passion that he did – computer science. I believe in the power of technology and that it should change our world for the better. This is why I'm looking forward to all the opportunities and challenges studying at your university can bring me.

It's funny, but my fascination with technologies started when I was a kid, playing PlayStation. Since I got it from my older brother, it broke down numerous times, and I fixed it all by myself. Then at school, I had my first computer science classes and got even more interested. I learned more about computer hardware and all the processes inside the motherboard. Most importantly, my professor showed us how to maximize computer efficiency and productivity. Then I became proficient at my first programming language, Python, and I started making my first simple websites. At that moment, I realized how creative IT could be! I found a way to combine my interest in technologies with artistic potential.

I completed several online programming courses in high school to create my first IOS game. I remembered how excited I was about those old-school PlayStation games, so I did my best to create a similar one for the Apple devices. To accomplish this, I studied another programming language – Swift, which is primarily used for IOS apps. This experience showed me that every game on your phone has two sides: the code itself and the visuals. To make users enjoy graphics and feel the nostalgia of 90's videogames, I took Photoshop courses. Now I have an extensive portfolio with motion designs and game concepts. Although my first game was mainly known among my classmates, I was happy to acquire many new skills!

As a kid, I was a gamer, but now I am a young specialist in computer engineering, coding, and game design! And there is so much more to learn! My main goal for the future is to learn how to create games that would be entertaining and educational. I'm willing to learn more about IOS apps development for all sorts of devices to make people's lives easier.

I understand that computer science is not only about hardware and coding, so I'm looking forward to expanding my knowledge. One sphere that I'm particularly interested in studying in university is IT ethics. I genuinely believe that technologies cannot be used for any form of crime or hatred. By developing cybersecurity, we will be able to protect users. I'm ready to begin my studies and build a safer and brighter world around us.
Expert analysis:
The personal statement starts with a nice hook, a quote. From the very beginning, it gives committee members a clue about the applicant´s sphere of interest, IT.

The text has a form of storytelling that shows how creative the applicant is. This technique also catches attention and makes readers want to learn more.

The applicant mentions their skills in the sphere, as well as their hobbies and plans for the future. That demonstrates the writer's multiple interests and raises their chances!
500-Word Personal Statement Example #2
Did Shakespeare really exist? I'm not sure since there are so many conspiracy theories around his figure. But what I do know is that since I read Hamlet for the first time, I knew that one day I would become a play writer. This is how my journey started and brought me here, applying for your English literature program.

When I was a kid and didn't know how to write, I already had quite a bright imagination. The only way to express my creativity was to tell all those stories to my parents. They thought I should be an actress back then, so I joined a theatre club at school. I liked all the behind-the-scenes processes there, but I couldn't find my niche. I tried myself as an actress, a part of a stage crew, and a dresser, but nothing felt right. Now I'm grateful that I have experience in these spheres since it helps me write plays and immediately visualize how to stage them. One day our theatre club prepared an original play about our school, so I had a chance to write my first script. Seeing people laughing and enjoying our performance was a unique feeling, and I promised myself to become a professional.

Along with the theatre club, I took advanced classes in English literature in high school. We explored the most influential literature ever written, including works of my favorite: William Faulkner, Virginia Woolf, and Kurt Vonnegut. Step by step, I studied their writing styles and developed my own. Even though fiction has dramatically influenced my literature taste, my writings were mainly in poetry. I took Coursera courses on playwriting and storytelling to boost my writing skills. Those taught me about literary devices and techniques that brought my writing to a new level. I understood that skills are as essential as imagination. Slowly the plays I wrote for our school theatre got more complex; they raised philosophical topics of family bonds, first love, and self-realization. Our theatre crew took part in several festivals, which was a success! After graduating, I continued writing plays and short stories. Some of them were published in local newspapers, others I post online. I have more than 100,000 readers on Wattpad, but this is only the beginning. Fame is essential, but I believe every author has a deeper mission – to help others by sharing their own experience. I wish my readers or people who watch my plays find comfort and realize that they are not alone.

I've learned a lot about classical authors, their writings, and existing storytelling techniques, and I feel like now is my time to create. I'm looking forward to starting an English literature major to broaden my creative horizons, as well as joining college theatre. Years later, newspapers will publish about a new Shakespeare, hopefully studying at your college!
Expert analysis:
The author catches readers' attention with a question hook, making them curious. The reference to Shakespeare also introduces the applicant's preferences and interests.

The text has some humor in it but is still written carefully and respectfully. It highlights the writing skills and creativity of an author.

The applicant mentioned the courses they took as well as the literature they read so that the committee members have a clear picture.
How do you feel now?
Like an expert?
Well, it was the aim of our article. You got all the necessary information to make a great impression with your application letter.
Do you still have questions?
Get to the section below to make sure all the fundamental points of creating personal statements are digested and ready to be applied!
❓ FAQ
What is a personal statement?
A personal statement is a presentation of your most noticeable results, significant experience, and skills in the form of an essay. You write a personal statement when you apply for graduate school, university, residency to get a scholarship or a job.
How to title a personal statement?
The name of the document goes first (for instance, "Personal Statement" or "Application letter"). The personal statement title should also include vital information about the institution you are applying for and your name.
How long should a college application essay be?
If we speak about a college application essay, its length usually ranges from 400 to 600 words.
What are the success keys for a personal statement for college?
– A good structure, – Excellent grammar and spelling, – Rich but appropriate vocabulary, – Actual facts about your background, – The polite and friendly tone of voice, – Specification of your achievements relatable for a position.
What are the common mistakes in a personal statement for college?
– Bragging and showing off, – Poor grammar and inappropriate language, – Lies, exaggeration, misleading facts, – Too formal or too nonchalant manner of speaking, – Lack of true facts backing up your capability, – Too much drama and emotions.
Useful Links