If you have never heard of a mathematical autobiography before, you might be surprised once you get such an assignment. However, don't worry too much – it's easier than it sounds.
We will write a custom paper
for 12.00 10.20/page
based on your instructions
568

certified writers online
This type of assignment usually isn't assessed traditionally. Good news: no F-grade is awaiting! Most likely, it's your tutor who wants to find out some essential information about you. They can ask you to describe your relationships with Math, your strong and weak points, etc.
Probably, your tutor will keep your writings just to reflect on them together at the end of a course. Check what we've got here for you!
📍 Math Autobiography Explained
Even though a math autobiography is a sheer getting-to-know-you activity, you have to know its essence and basic writing rules.
Below, we will provide you with such vital information.
In
only

3 hours
,
we'll deliver a
custom essay
written 100% from scratch
What Is a Mathematical Autobiography?
A mathematical autobiography is a presentation of you as a math learner. It can describe your attitude to math, your thoughts, and your expectations. This assignment aims to let your tutor know about your experience with math.
Although the math autobiography task is relatively conventional, there might be some peculiarities. Thus, you should take into account your teacher's requirements.
✍️ How to Write a Math Autobiography Assignment
You might get a task to write a math autobiography in middle school or college. We have researched and collected helpful information on this assignment's points for any education level.
Let's figure out how to write a good math autobiography now!
Math Autobiography Outline
An outline of a math autobiography doesn't look exactly like an outline of a traditional essay. However, we offer you to use the classical structure. Divide your text into three parts: introduction, central part, and conclusion.
Will you agree that a well-curated text is always more pleasant and straightforward than just a bunch of passages?
Get your very first
custom-written
academic paper
with 15% off
An intro of a math biography can answer the following questions:
Who are you? (Basic information)

What is your major? (If you attend a university or college. If you write a math autobiography in high school, talk about your desired major)

What are your interests and hobbies?

How can you describe your relationships with math?

What contributed to this or that kind of attitude to mathematics?

Do you have a natural aptitude for math?
The central part, or a body, should include deeper insight into the subject:
What grades have you been getting throughout the course?

Did you have such teachers who, on the opposite, demotivate you from going into math?

Which topics do you find most challenging?

Which ones are simple for you?

What hacks did you use to accomplish your math goals?
To conclude it all, first, restate your main idea – you can use our free rephrasing tool; then answer these questions:
What are your expectations from a course?

What results would you like to reach in math?

What blind spots do you want to eliminate?
You can also mention reasons why a person should start taking math seriously.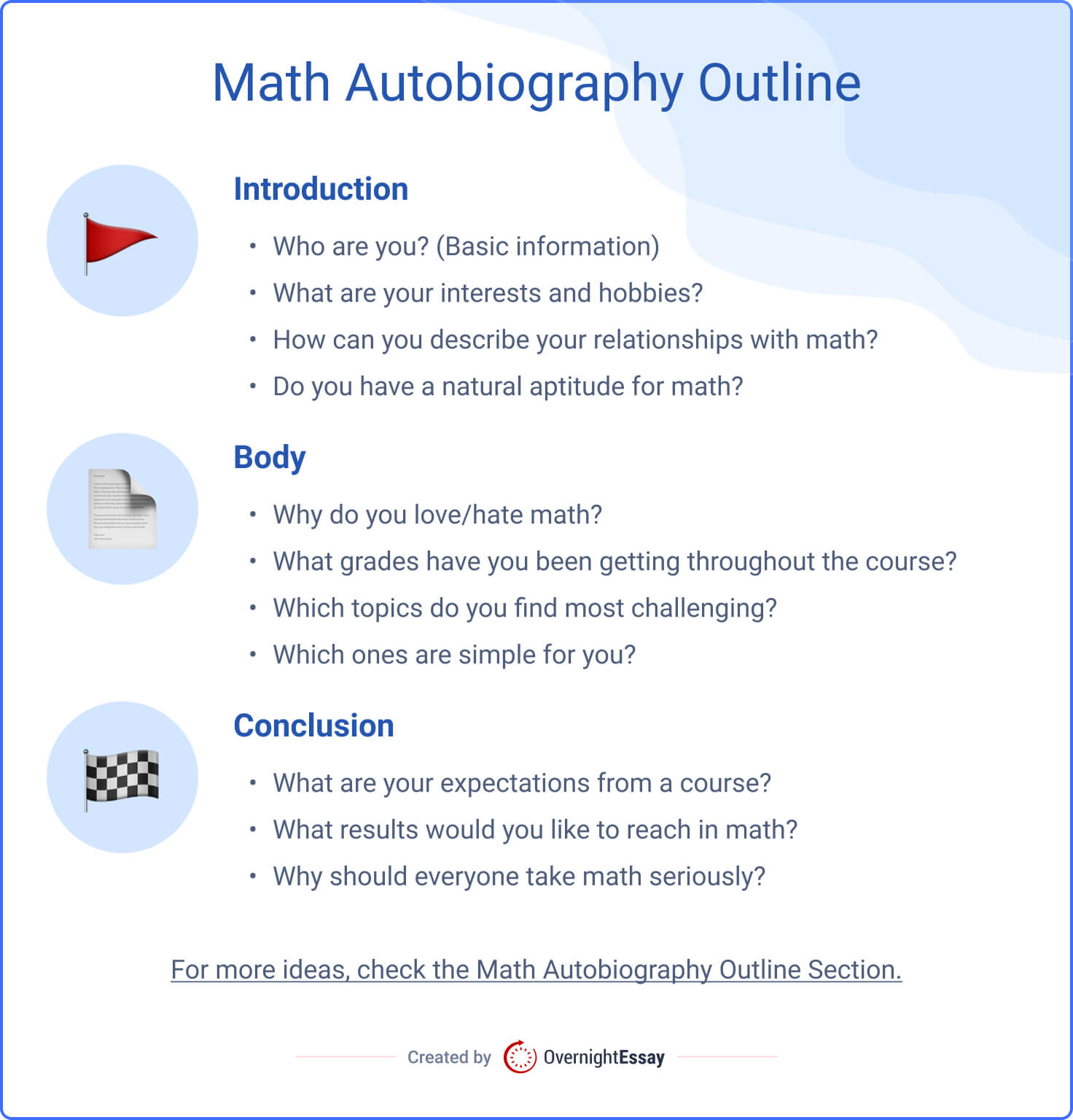 Top 7 Math Autobiography Assignment Tips
Before you start exploring our math autobiography example, we suggest that you look through some tips!
We will write a custom paper
for 12.00 10.20/page
based on your instructions
They will help you build up a consistent structure of your math autobiography.
Study your tutor's assignment and make sure you understand it perfectly well. If you have questions, ask them before you start writing.

Brainstorming: take time to reflect on your remarkable experience with math – since elementary school (or earlier) till now.

Be honest if you have been getting all Cs or Fs in math. A tutor will most likely sympathize with you and want to help then.

Remember: it's a get-to-know activity. That means each answer is correct. Stick to your personal story.

Be precise: why exactly do you dislike math? It's more fruitful to name particular points and make them clear to your readers.

If you're a total mess in math, let your tutor know that you are ready to work. In any case, your relationships will be better if you show your interest.

Outline: although it's not an actual essay, make sure your text is structured and proofread.
➗ Math Autobiography Example
We have something else in store for you – a great example of a math autobiography that can navigate you through writing.
My Math Autobiography
The best thing to start with is that my major is medieval literature. I guess it gives a hint on my relationships with mathematics. Math has seldom been easy for me. Only in elementary school, when the tasks were basic, could I accomplish them successfully and without much struggle. I have never thought math is essential to me and my life. Besides, I also never considered myself having a natural aptitude for math. I've had too many other interests like learning foreign languages, studying literature, and music. As it can be seen, everything is far from math. It's not that I despise math. I just think it's beyond my understanding. Sometimes, I find a task unsolvable, while my peers get it easy and fast. It gets me down every time, and I just don't know how to overcome it. When I entered the 5th grade, I struggled with geometry which I found overwhelming. My school teachers weren't supportive, they just gave us a lot of worksheets to fulfill, so I had to take up extra classes with a private tutor. That helped me go through the school projects and get decent grades. However, I still didn't come to terms with math. College math seems even more frustrating to me. But I find it a great challenge and opportunity to master math at last. I realized it'd be hard to live without math because I need it even in my music classes. So, I am ready to put all my efforts into improving my math results. I think I just need some extra help. Hopefully, I won't remember that I ever had such issues at the end of the course.
Was this an informative guide?
Our team has worked hard to help you. Feel free to ask any questions if you still have them. And don't forget to check our blog. It is full of helpful articles for students, and we update it regularly.