Do you agree that kids' autobiography is not a very common task? However, it is an excellent opportunity to reflect on one's life. Each human being has something remarkable in their childhood to think about. That's why we are unique and live unique life stories.
We will write a custom paper
for 12.00 10.20/page
based on your instructions
568

certified writers online
Even if it seems challenging in your situation or you find your life dull, we can assure you of the opposite! Our expert team has prepared a helpful guide that will help write any kind of autobiography for kids.
🤿 How to Write an Autobiography for Kids
We've prepared this article to show that an inspirational autobiography for kids is what you can easily create yourself.
Let's see which themes you can add to your kid's autobiography.
Kids Autobiography Elements
We're not going to provide you with a strict outline for your autobiography. Instead, we offer fundamental elements to set up your writing.
In
only

3 hours
,
we'll deliver a
custom essay
written 100% from scratch
Start with early childhood – it is a significant period of formative years:
Reflect on your background: your origins, ethnicity, family, and region.

Share extra activities you were taking up, for example, attending ballet or music classes.

Tell about your relationships with people around you: parents, grandparents, your peers in a kindergarten, and neighbors.

Your interests and hobbies can be another exciting topic to elaborate on.

Speak about any things you liked or disliked doing.
Embrace your culture – it indeed has some interesting details:
Tell about everyday rituals typical to your culture.

Give an example of traditional food served in your house.

Describe your favorite holidays and how you celebrate them.
School experience – no matter if you are in the 3rd or 6th grade:
Discuss your first experience with school.

Tell how you built up relationships with teachers and fellow students.

What were your most and least favorite subjects?

Describe your classmates and what were your favorite games.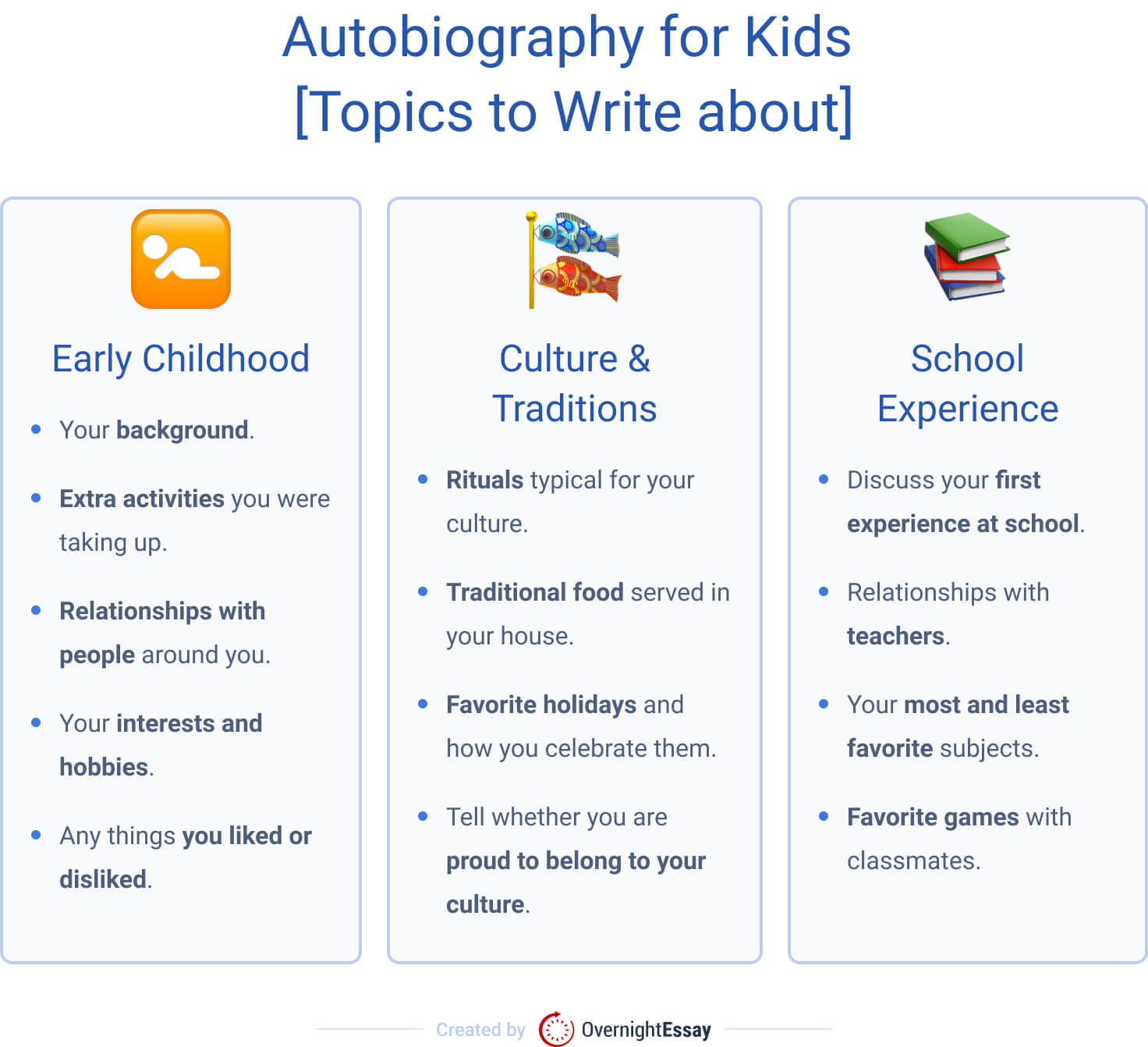 Tips for Writing an Autobiography for Kids
Some fundamental principles for achieving a good kids' autobiography include:
| | | |
| --- | --- | --- |
| ✔️ | Choosing the simplest words possible. | Make sure you use words that even a four-year-old can understand. These words should be short and widely used. For example, when you work on an autobiography for children, it is better to write 'good' instead of 'magnificent.' |
| ✔️ | Use short sentences. | Keep the limit of about 15 words in a sentence. Start a new sentence whenever possible. |
| ✔️ | Give enough detail. | Help your readers imagine what you are describing. Try to describe colors, shapes, smells, sounds, and textures. |
| ✔️ | Avoid using specific or even scientific terms. | Check yourself – if any word ends in –ism or –ology, it should be avoided by all means. The same goes for other special terms. |
| ✔️ | Include life lessons in your memoir for kids. | Try to teach something without being too annoying. You can even directly state what you want your readers to know. For example, you can write that breaking promises is bad. |
| ✔️ | Maintain readers' attention. | Some people are unable to concentrate their attention for long periods. This is why you should include some unexpected plot lines in your narration. Use some interjections which are clear and can help focus attention. E.g., Hey! Oh! Bam! |
🚸 Autobiography for Kids of Different Ages
Indeed, each of us can find something interesting in life to share. However, the younger you are, the less experience you have.
Get your very first
custom-written
academic paper
with 15% off
Here are some ideas for kids of different ages to assist them in writing an autobiography.
Autobiography for Elementary Students
This one is meant for kids from 6 to 11. Their autobiographies can focus on the following:
Concluding your autobiography, share your emotions after completing the task.
Autobiography for Middle School
If juniors write their autobiographies, then it's even easier for 12-year-olds. If you have already entered middle school, add up the following things to your autobiography:
To start your autobiography, introduce yourself and give a nice insight into your personality and origin.

Elaborate on the idea of how autobiography writing contributes to your understanding of yourself. These reflections were fruitful for you, weren't they?
Try our exclusive and free essay topics generator if none of these ideas is close to what you want to write. It will help you develop an excellent idea for the autobiography assignment and any other written task. Save in bookmarks!
🧸 Autobiography Examples for Kids
Now we suggest getting acquainted with our short autobiography samples for elementary and middle schoolers. Read them for inspiration, and go for your own story!
We will write a custom paper
for 12.00 10.20/page
based on your instructions
#1 Example. 3rd Grade Autobiography
My name is Williams. I was named by my grand grandfather, who fought in Civil War for the Republican Party. I also have two siblings: an elder brother George and a small sister Lilly. I was born on April 26, 2012, in Sparks, Nevada. I'm nine years old now. I like going to school because I have many friends here. My parents tell me I'm a very communicative boy, which is true! I enjoy making new friends around. One of my first memories as a small kid is spending my summers in Texas at my grandmother's place. She had a lovely farm in Dallas, and it was huge fun to be around her cows and chickens. My brother and I would play there a lot. Since then, I have truly loved animals. I have a dog now. He's called Dodge, and I walk with him on Sundays in the park by our house. My favorite thing about school is music lessons. And a canteen. I also see my piano teacher twice a week. I reckon I'll become a world-known pianist once I grow up. Generally, I study well, although I find math challenging for me. But I plan to master it too because I'm used to achieving my goals!
#2 Example. Autobiography for Middle School
I'm Jenny Maria Stevenson, and I am thirteen years old by now. I had my birthday last week, on October 14. I was born to a surgeon and a photographer. My mother takes stunning photos! My family came to Florida from Wisconsin when I was two years old. Living in Orlando, I cannot imagine it any other way, so I am happy my parents moved 11 here eleven years ago. I had a happy childhood because my mom and dad pampered me and cared about me a lot. I've been attending ballet classes since five, and I'm not going to quit because I genuinely love it. Ballet fills my life with inspiration and joy. I am also quite competitive. I realized it when I participated in a Miami ballet contest among girls a couple of years ago. When I won the first prize, I felt ultimate bliss. That makes me practice much and set new goals. However, I'm not into active socializing. I'm more like an introvert. I prefer to spend my time hitting on books and working out. Speaking of books, I love to study. I am a fan of literature, and my teacher is fantastic. We get along well, and that motivates me.
What do you think?
Which part of your life is the most interesting to share?
We hope our mini-guide inspired you to write a first-class autobiography for elementary or middle school.
Good luck, and remember, we are always ready to help!